In what has to be a last gasp, make or break move, Palm have announced that they will be announcing their long overdue new operating system at the Consumer Electronics Show in January.
With loyal Palm users deserting the platform in droves, developers jumping ship at an alarming rate of knots and even the most die hard fans jealously eyeing exciting new products on the iPhone, Android, Symbian and WM platforms, Palm are banking everything on their new Nova OS-powered handsets proving a hit.
According to a report in Businessweek, Palm are targeting the new operating system to bridge the gap between the suit-loving business focus of RIM's BlackBerry handsets and the eye-candy multimedia feast of the iPhone.
Labelling this sector as the "fat middle" of the consumer market, Palm is hoping to claw 2 per cent of the mobile operating market by releasing their new Nova OS on a wide range of devices including smartphones, handheld games consoles and possibly eBook readers.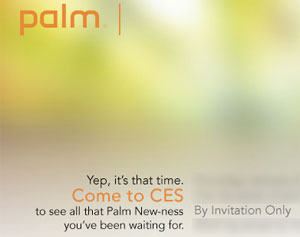 Palm appears to be looking to offer hugely flexible, energy-efficient devices with extra long battery lives, and claims that Nova will be able to make 'smarter' use of personal data, so that a Nova smartphone could, "send you an e-mail the day before your next business trip, advising you on the weather conditions in your destination city."
Palm: in the balance
With the company's fortunes hanging in the balance, Palm really needs to deliver something spectacular at CES: their share price has plummeted almost 80% since 2007 and they've already laid off around 10 per cent of their staff.
However, they do appear to have a strong team at the helm, including ex-Apple hotshots Jon Rubinstein and Fred Anderson, backed by Elevation Partners, and there are some enthusiastic noises leaking out: "I'm fundamentally convinced we're onto something huge," exclaimed Mike Bell, an 'Apple engineering star' for 16 years who joined Palm last year. "Some of the stuff we're working on here is mind-blowing—better than anything I've seen before."
In breaking news, Douglas Jeffries, the former chief accounting officer at eBay has just been appointed CFO at the company, and Palm have just jettisoned Marc Blank, the guy who created the excellent ChatterEmail client which was bought up by Palm in 2007.
Elsewhere, PalmGear have just announced their new Palm App Store, offering over 5,000 apps and games to download, with 1,000 being completely free to download.