If you're looking for an overview of the best High-End digital compact camera, you've come to the right place. Over the next few days, we'll fill you in on what's hot – Ed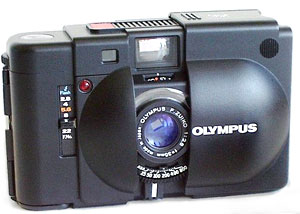 Way back in the pre-digital age, our favourite carry-everywhere camera was the Olympus XA, a wonderful lightweight (225g) and compact 35mm camera, measuring just 102 W x 64.5 H x 40 D mm and providing a superbly portable alternative to our Olympus OM2 SLR system.
This pocket-sized wonder packed aperture-priority exposure controls, rangefinder focusing, an optional flash accessory and a fast 35mm lens with 10 sec-1/500 sec shutter speeds.
Apertures could be set from f/2.8 to f/22 by a sliding switch on the front, with the viewfinder displaying the selected shutter speed and focus confirmation by means of an overlaid secondary image. The lens barrel also displayed distance markings, so it was possible to pre-focus without using the viewfinder, making it a great camera for street shooting.
With user-selected film speeds from ASA 25-800, a +1.5 stop backlighting exposure compensation switch and a fixed flash that automatically set to f/4 at 1/30 sec, there was plenty of opportunities for photographers to override the auto settings and get creative with a near-silent electronic shutter adding to the stealth factor.
For years it was our faithful companion, with its clever clamshell design surviving several knocks and spills, and the 2x SR44 Silver Oxide Cells lasting for, well, nearly an eternity. And quite possibly beyond.
Despite is diminutive proportions and tiny wee lens, the quality of the photos was very good indeed – in fact some of the best photos we'd ever taken were snapped on this humble little camera.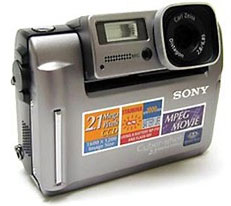 Moving to digital compact cameras
Lured away from the world of 35mm compacts by the ease, speed and – most of all – the relative cheapness of shooting digitally, we've been busy filling up memory cards since 1999, but we've never found anything to match the pocketability and usability of the Olympus XA.
Our first few digital cameras saw us thrilled by the cunning swiveling lens of the early Sony Cybershot F55/F55E/F717 cameras, which offered funky new shooting angles and a sneaky way to take candid shots.
New models promising bagfuls of extra megapixels and more advanced exposure controls meant we upgraded cameras often, indulgently paying for shiny new cameras with print sales helping finance our photographic fixes (even the early digital cameras could produce sellable A4 prints).
We spent a fair bit of time with the traditionally styled Sony V3 (great image quality but a little on the chunky side), several Fujifilm models (F10, F11 etc), all of which offered great low light shooting but at the expense of a dumbed-down UI, a Canon Ixus or two (we really couldn't get on with the interface despite their lovably small size) and the Lumix LX1 (fabulous look and feel, awful low light performance), before finding something that seemed to offer the same kind of enthusiast-led feature set as the XA.