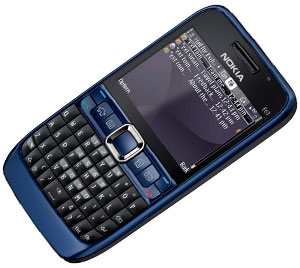 Freshly minted in their busy Nordic factories is Nokia's new E63, a rather natty looking handset sporting a full QWERTY keyboard in an attractively slim package.
Hoping to mesmerise the messaging masses with a pre-tax, pre-subsidy price of just €199, the Symbian S60 E63 packs a fair armful of functionality into its lithe 113 x 59 x 13-mm frame, which weighs in at a pocket-untroubling 126g form factor.
The screen is an average 320 x 240 pixel affair with the the phone serving up Wi-Fi and quad-band GSM/EDGE connectivity (it'll also be available in WCDMA 900/2100, 850/1900, and 850/2100 configurations) with the battery offering an impressive 660 minutes of talk time and 432 hours on standby.
There's 110MB of internal memory inside, backed by a microSD memory slot. The camera's a ho-hum affair however at just 2MP, although it can knock out QVGA video @ 15fps video recording. Nokia has thoughtfully kitted out the E63 with a standard 3.5-mm audio jack and there's also Bluetooth on board.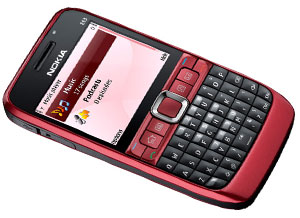 The handset will be available in ruby red or aquamarine blue colours and in line with its business aspirations, comes with a dedicated button letting users switch from uptight business mode (corporate email, appointments, intranet) to tie-loosening personal mode (pictures, personal email, browser shortcuts) in an instant.
First impressions
Like a dress down day in the office, the E63 manages to combine good business looks with a sense of fun, and we're loving the attractive colours and full QWERTY keypad. The low price is sure to tempt both consumers and business bods, and it looks like a phone we'd be happy to use. Well, at least for a while until our techie urges made us crave for something a bit more advanced with a bigger screen, better browser and GPS.