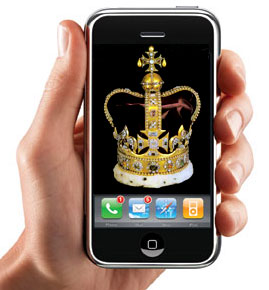 For years, Brits were baffled by the continuing dominance of the Motorola RAZR at the top of the US best selling handset listings, but it's finally been booted off and – for the first time – replaced by a smartphone which now sits at the top of the pile. That handset is, of course, the Apple iPhone which has proved more popular than a bucket of alcopops at a teenagers party,
This is the first time that a smartphone has become the biggest seller in the US consumer market and reflects the public's growing taste for more advanced handsets.
The RAZR had been listed by market-research bods NPD Group as the best selling consumer handset every quarter for the past three years, but the floodgates seem to be opening for smartphones, with the BlackBerry Curve also appearing in the top five at number three, whil ePalm's low cost Centro shifted over 2 million units since launch.
Phones with smartphone-like features have also seen a rise in sales, with 30% of all handsets sold last quarter having a QWERTY keyboard (up from 11% for the same period last year), with 83% of phones being Bluetooth enabled (up from 72% last year) and 68% of handsets offering music playback (49% last year).
"The displacement of the RAZR by the iPhone 3G represents a watershed shift in handset design from fashion to fashionable functionality," said Ross Rubin, director of industry analysis for NPD.
"Four of the five best-selling handsets in the third quarter were optimised for messaging and other advanced Internet features," he added.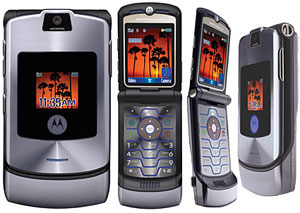 Here's NPD's list of best selling phones for the third-quarter of this year:
1. Apple iPhone 3G
2. Motorola RAZR V3 (all models)
3. RIM Blackberry Curve (all models)
4. LG Rumor
5. LG enV2
Samsung #1 Overall Mobile Vendor In US
It's become a double whammy o'grief for Motorola this month, with Samsung snatching their crown to become the top cellphone handset seller in the US.
According to research firm Strategy Analytics, handset shipments in the United States (the biggest cellphone market in the world) grew 6.2 percent from a year to hit 47.4 million sales during the quarter.
"Attractive bundling schemes from operators, healthy subsidies and aggressive pre-stocking by distributors ahead of the holiday season helped to lift volumes," commented Neil Mawston, director at Strategy Analytics.
Samsung now own 22.4 percent of the US market with LG on 20.5 percent.