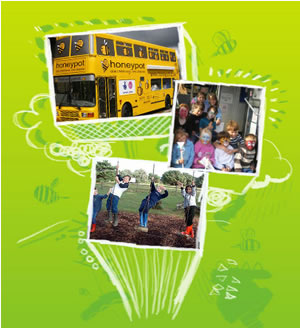 We're always happy to support legitimate good causes, so it's great to hear that The Honeypot Charity, that supports vulnerable children and young carers, is running an online auction that runs until 2 November.
Sony Ericsson has adopted them as their charity of choice in the UK & Ireland, so has made over 20 auction items, many of them exclusive and normally money-can't-buy items, for the auction.
It's not just 'stuff' that Sony Ericsson is putting into the mix, they're also getting their staff directly involved. Back in June 50 of them got stuck in working in the seven acres of grounds of Honeypot House in the New Forest, cutting back brambles, clearing the river and painting fences and sheds.
Get yourself over to the eBay auction and support The Honeyport Charity.
The Honeypot Charity
Based in The New Forest, The Honeypot Charity tell us that they supports very vulnerable children and young carers aged 5-12 years, with respite holidays and a long term support programme.
Honeypot gives these children a chance of having a childhood by providing opportunities to play in a safe and nurturing environment. The holidays include trips to the beach, swimming, riding bikes and toasting marshmallows over camp fires.
These activities create wonderful memories and something exciting to look forward to throughout the year, knowing they will return each year until they are 12 years old.