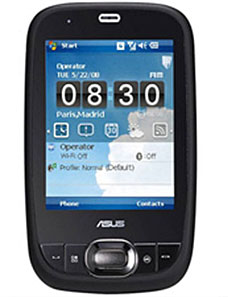 Computer bigboys ASUS have announced the imminent launch of their first ever first handset, the P552w smartphone, a wee little keyboard-less thing.
Packing a nippy 624MHz processor and minimal buttons, the ASUS sports a 2.8-inch touchscreen supporting a 240×320 resolution, and comes with HSDPA/UMTS radios, a built-in Google Maps-compatible GPS receiver and 802.11b/g Wi-Fi connectivity.
The machine runs on the Microsoft Windows Mobile 6.1 operating system, but they've tried to spice up the joy-sapping interface with their own pseudo-3D touchscreen environment called 'Glide.' This seems to be heavily influenced by the 'TouchFLO' interface already seen on the HTC Touch phones and tries to make using the phone a slightly more groovier experience by letting users navigate menus via onscreen slides of the finger or by pinching and flicking t'ings about.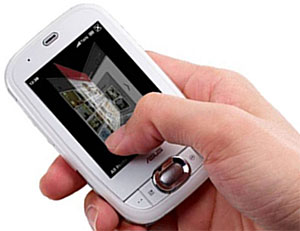 ASUS have written some custom applications for their shiny interactive interface, collectively tagging the suite, 'Multi-Home,' and these include 'EziPhoto' and 'EziMusic' which, as you may have worked out, promise to make viewing photos and listening to music a carnival of finger-flickin' fun.
Other bundled applications allow nippy access to RSS newsfeeds, YouTube content and Flickr photos, while an intriguing ASUS SMS Location Link gizmo will let users locate each other via Google Maps by clicking on URLs embedded in text messages (this will apparently only work in selected countries).
The P552w comes with a ho-hum 2.0-megapixel camera, with the usual audio/video formats supported for your multimedia delectation, and there's 128MB of DDR plus 256MB of integrated flash memory with a microSD card offering expansion options. There's also Bluetooth 2.0 with ADP onboard, and USB 1.1 connectivity for syncing content with your desktop PC/lappie.
As yet there's no news of pricing and global availability of this fella.