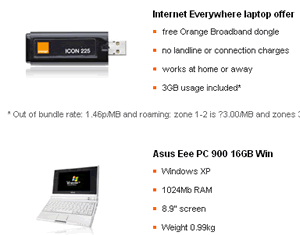 The battle for Mobile Broadband is heating up in the UK.
At the weekend, Orange launched their latest offer to try and entice UK must-have-data freaks onto their network.
For £25 a month, they're giving away an Asus Eee PC 900 16GB Win with a USB modem. The bundle includes 3GB of data usage a month as well as 100 fee texts, if they're sent from your laptop.
It's important to note that the data modem will work at a maximum of 1.8Mmps, not at the higher speeds of 3.6 or 7.2Mbps that other modems runs at.
If you've already got a laptop, they offer the same rates and from USB modem for £15/month.
Downside
You don't expect to be given an Asus Eee and data modem with no strings do you?
Orange are insisting that people who want this tempting package will need to sign to the deal for 24-months – that's 2 years in old money.
Given how fast the mobile broadband market is moving, and the number of deals that are appearing, people may want to watch the market a little longer before throwing themselves into any deal lasting quite so long.
Depending on the specifics of each deal, you might end up in a couple of years paying what may appear a considerable amount of money for your mobile data.
As sure as eggs are eggs, 1.8Mbps is going to look pretty silly slow in two years time.
Details of the Orange deal.