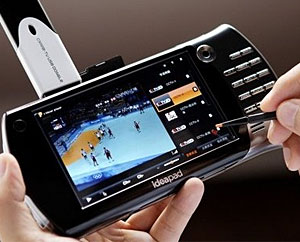 Hoping to be heard above the clinking of Michael Phelp's vast haul of gold medals is Lenovo's new Lenovo IdeaPad U8, which gets an official debut at the Beijing Olympics
Authorised by the Beijing Olympic Organising Committee, the 10.6-ounce MID (that's Mobile Internet Device, acronym fans!) packs an 800MHz Intel Atom Z500 processor with 1GB of RAM onboard (up to 2GB supported) and a SD slot for expansion. There's a small, mobile phone style keypad to the right of the screen with a stylus included.
Storage comes in the shape of a 6GB SSD, and there's front and rear cameras on the device. The pot of connectivity options floweth over, with 802.11b/g Wi-Fi, Bluetooth, GPS, USB, EDGE connectivity, and – according to translated documents found on the web – "3G network support and WiMAX Internet access."
Lenovo are claiming a 5-hour battery life, and the great chunky USB device sticking out of the U8 in the picture is a CMMB (China Multimedia Mobile Broadcasting) USB dongle, which is being used to stream free live coverage of the Olympic games.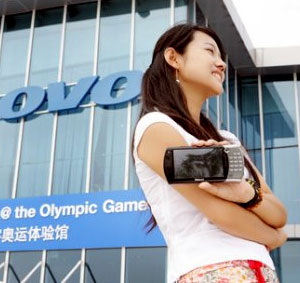 The IdeaPad U8 comes in all black and black and silver finishes, sports a 4.8-inch touchscreen, weighs 10.6 ounces and if you've got a pair of of MC Hammer pants, its 21 x 173 x 84-mm dimensions should slip in a treat.
At the moment the device is enjoying an Asia only release, but it is expected to made available in North American and Europe shortly.