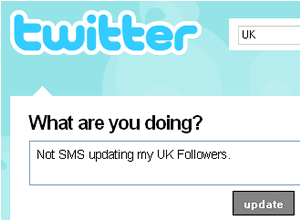 Twitter has decided to drop the distribution of outgoing SMS in the UK, citing escalating cost.
While UK users will still be able to update Twitter using their mobiles, those updates will not be distributed via SMS to their 'followers.' Updates will still be visible over the Web, as previously, as well as other, third-party services.
In an email to all Twitter users that have a UK (+44) mobile registered with them, Biz Stone, one of the founders of Twitter, announced "Beginning today, Twitter is no longer delivering outbound SMS over our UK number."
Clearly not a great deal of notice on the cancellation, given it starts today.
Mounting costs
Biz, continues to explain that while Twitter have been able to strike reasonable deals in the mobile networks in Canada, India and United States, the same hasn't been true of the UK.
Twitter have been shouldering these SMS distribution costs and have made the decision to stop carrying the costs.
They claim that "Even with a limit of 250 messages received per week, it could cost Twitter about $1,000 per user, per year to send SMS outside of Canada, India, or the US."
It appears that Twitter are being reasonable with this, given their claim of considerable financial outgoing.
Whether UK Twitter users will see it in the same way, could be quite another story.