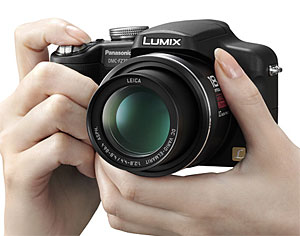 Heading for the shelves and ready to to start wooing bird-watchers, wannabe paparazzis and other looooong zoom-lovin' types is the mid-range Panasonic Lumix DMC-FZ28 digicam.
Sporting a veritable John Homes of a zoom, the 10 MP DMC-FZ28 packs a colossal 18x (F2.8-4.4) optical range, starting off at a handy wideangle 27mm setting and soaring up to a 486mm – which is probably powerful enough to snap the Phoenix lander on Mars. Possibly.
With a celeb-bothering zoom of this magnitude, image stabilisation is a must, and Panasonic duly oblige by bolting on its Mega O.I.S. (Optical Image Stabiliser) to ward off the wobblies.
To keep fumbling newbies and manual-shirking point'n'shooters contented, Panasonic include a full range of automatic exposure gizmos, and with Intelligent ISO Control, Intelligent Scene Selector, Face Detection and Intelligent Exposure onboard there's a good chance that the camera might just beat you at Scrabble too.
To cope with every conceivable atmospheric and lighting possibility, the Lumix comes with no less than 37 scene modes of varied usefulness: we can't imagine many punters making use of 'Grain mode' or 'Pin Hole Mode,' to be honest.
There's also a High Sensitivity mode, offering ISO speeds up to 6400 for low light situations, while Panasonic claim that the battery is good for around 450 photos per charge.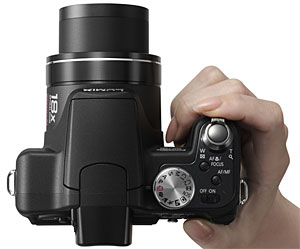 In line with its consumer-targeting aspirations, the Lumix FZ28 can knock out high-definition 1280 x 720p video at 30 fps, with the ability to rattle off shots an extraordinarily nippy 13 frames per second in High Speed Burst Shooting mode.
Available in black and silver, the compact offers SLR-like controls, with a large 2.7″ LCD screen (and that's an "Intelligent LCD" of course), and an electronic viewfinder offering 201k resolution.
The DMC-FZ28 is expected in August with a price tag around $449.99 – a price that may not compare too favourably with budget dSLRs that would easily outperform the Lumix, but if you crave a Jodrell Bank-challenging zoom, then the Lumix starts to appear good value.