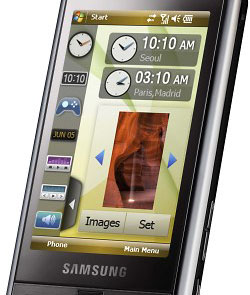 Slipping out of the new product dock mere moments ahead of the expected 3G iPhone launch is Samsung's new Omnia i900 smartphone.
Sharing a similar design as the iPhone (and the LG KE830, Prada and Clie TH55 before it), the Omnia sports a beefy-sized 3.2″ 240 x 400 pixels big screen flanked by call start/end buttons either side and a central optical mouse whotsit.
The display comes in the shape of a fancypants haptic touch screen which means you get some sort of vibration feedback when your fingers go pitter-patter on the flat glass.
The phone comes in two flavours offering 8GB or 16GB of internal storage, with an SD slot letting punters boost the storage up to a decidedly healthy 16GB.
It's not the thinnest handset in the world at 12.5mm – it's scoffed a few more pies than the HTC Touch Diamond – but the specs seem to come up to scratch, with quad-band GSM/GPRS/EDGE support and HSDPA connectivity serving speeds up to 7.2Mbps and built in GPS letting you know where you are on this crazy ol'planet.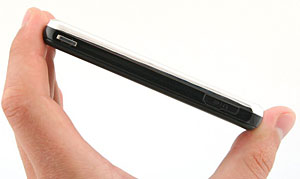 The onboard camera is a healthy 5MP number packing geo–tagging as well as the unexpected bonus of image stabilisation keeping the wobblies at bay.
There's also a built-in accelerometer, Wi-Fi, USB port, FM radio with RDS and stereo Bluetooth (A2DP), with the Omnia running on a fiddled-about version of Windows Mobile 6.1, with Samsung slapping on their TouchWiz user interface.
According to Stuff magazine, the phone should be getting its official unveiling in Singapore next week, with us Brits getting served a slice of the Omnia pie in July.