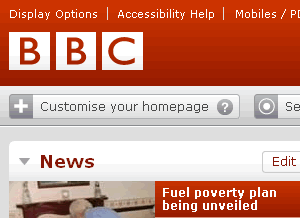 The BBC Trust published their findings of the review of the bbc.oc.uk Web site.
This is the first time the BBC Trust had carried out its review, as it's operating under new Charter arrangements. Previously reviews of BBC services were a job for the Secretary of State.
In 2006/7 3% of the license fee was spent by the BBC on their site and in 2007/8 the actual spend on bbc.co.uk was £110m, 48% higher than the Service Licence baseline budget.
In the six-year strategy paper published by the BBC back in October 2007, they signalled that they intended to spend more money on bbc.co.uk.
The Trust carried out a 12-week public consultation and independent audience research starting in July 2007, which showed that the public response was overwhelmingly positive. Arguably made a lot easier when you've got so much money to play with to achieve it.
Quite how any other non-publicly funded organisation is supposed to compete with this is unclear.
Dame Patricia Hodgson headed up the review, and commented, "The Trust endorses the management's plans to develop the service further – particularly on areas like search and navigation, which audiences tell us could be improved. But we need to be sure that additional investment of licence fee payers' money will deliver their expectations and – in doing so – does not stifle enterprise from others who seek to offer excellent online services to the public. For the benefit of those who pay, the Trust wants evidence of stronger management controls to improve financial accountability and strategic and editorial oversight before we consider new investment in the service. We hope to receive this soon so that audiences can enjoy an even more distinctive and improved bbc.co.uk."