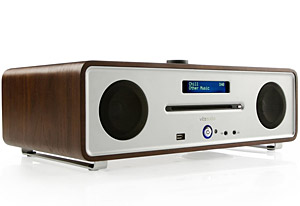 The world is full of iPod docks, but we have to say this one from Vita Audio looks a little bit special.
Such is the vagaries of audiophile fashion, the R4 Integrated Music System sports the kind of wood finish that was the pinnacle of coolness in the 70s, a bit naff in the 80s, firmly in 'old fogey' camp by the nineties, but come the naughties and people can't get enough of that woody, walnut veneered look.
The front of the unit is kept simple with just a CD loading slot and LCD display flanked by two speaker grills at either end, and an illuminated power on/off switch and USB playback port and audio in/phones out sockets punctuating the pressed steel front.
On the top plate can be found the iPod dock and 'RotoDial' control, which supports (deep breath) the iPod Classic, iPod Nano 1st, 2nd, 3rd generation, iPod Touch, iPod mini, iPod with colour display, iPod 4th, 5th generation.
For users with the 'umble iPod Shuffle and earlier models, there's the option to hook them up via the front and rear auxiliary inputs.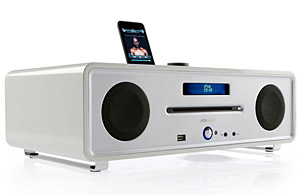 The R4 packs an integrated DAB/FM tuner and a beefy 80W 'audiophile- grade' amplifier and speaker system.
Measuring up at H145 x W450 x D255mm, the R4 is scheduled for a June release, with the walnut finish whipping up a £500 price tag, while the 'dream white' white finish will sting you for fifty quid more.
We're not sure if these prices includes the daft little pile of feng shui-tastic pebbles seen in the publicity shot.
Specifications
Class leading stereo sound
80 watts nominal power output
Integrated active subwoofer
Slot loading CD player plays CD-Audio, MP3 and WMA music disks
USB port for playback of MP3 and WMA music files
DAB and FM Tuner with RDS
Integrated iPod Dock supports iPod Classic, iPod Nano 1st, 2nd, 3rd generation, iPod Touch, iPod mini, iPod with colour display, iPod 4th, 5th generation. iPod Shuffle and earlier models are supported by front and rear auxiliary inputs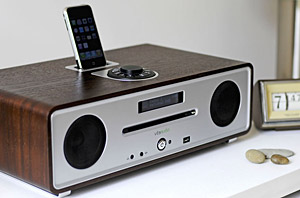 Intuitive docking Vita Audio 'RotoDial' provides remote control of R4 and iPod functions
Two auxiliary inputs for MP3 and other audio devices
3D enhanced stereo sound
Information support for MP3 files on CD and USB
Selectable tone settings
Stereo headphone output
Easy to use clock and alarm functions
Available in Rich Walnut veneer or Dream White high gloss lacquer
Dimensions H145 x W450 x D255mm
Weight: 8 Kg