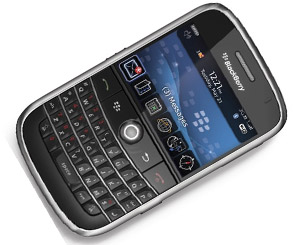 The gang at Blackberry have finally swished the velvet curtain back for the official launch of the BlackBerry Bold, previously known as the 9000.
Looking sleeker than a stimulant- supping streamlined ferret coated in 3-in-1 oil, the new Blackberry is gunning for the deep pockets of business professionals and power users, promising "unprecedented functionality and performance".
Here's Mike Lazaridis, president and co-CEO, Research In Motion, ready to serve up a healthy portion of PR froth: "The new BlackBerry Bold represents a tremendous step forward in business-grade smartphones and lives up to its name with incredible speed, power and functionality, all wrapped in a beautiful and confident design."
We have to say we're definitely digging the smooth silver lines and black gloss of this new Blackberry, and the spec list is rocking our boat too, with the phone packing support tri-band HSDPA, Bluetooth 2.0, integrated GPS with geotagging and Wi-Fi (802.11 a/b/g), and a fair smattering of multimedia capabilities.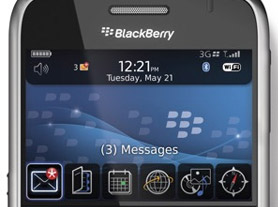 Purring along on a 624MHz mobile processor, the Bold comes with 128MB Flash memory and 1GB on-board storage memory, backed by a microSD/SDHC memory card slot
Dominating the front of the handset is a half-VGA (480 x 320 resolution) colour LCD and QWERTY keyboard, and there's a modest 2 megapixel camera (with video recording) offering a built-in flash and 5x digital zoom.
Stuffed full of the usual Blackberry office-based apps for taking care of email, messaging and organiser features and a new web browser with emulation settings letting users choose between viewing full desktop-style HTML content and layout or the mobile version.
Road warriors will appreciate the removable 1500mAhr battery provides with a claimed talk time of approximately 5 hours and 13 days standby time.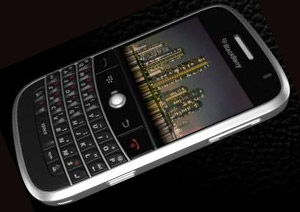 We're still waiting for the RIM gang to announce price and specific release dates.
Quick specs
Available in HSDPA and EV-DO versions (including an AWS-capable 1700MHz version)
480 x 320 display
625MHz CPU, 1GB internal flash memory
802.11a/b/g, Bluetooth 2.0 (with A2Dp), GPS, MicroSDHC
480 x 320 video recording, photo geotagging
4.5 x 2.6 x 0.55-inches, 4.7 ounces