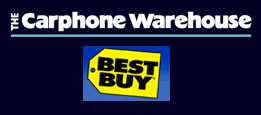 Best Buy, the US consumer electronics retail giant, is intending to buy 50% of Carphone Warehouse's retail operation for £1.1 Billion.
Best Buy and Carphone Warehouse have known each other for a while, as CW have been selling mobile phones in concessions within Best Buy's shops in the US over the last two years.
The directors of CW have unanimously agreed to vote in favour of the resolution to approve the transaction at the extraordinary general meeting scheduled to take place by early August, but for the transaction to go through the CW shareholders also need to accept it.
Using a new form of English language to us, Brad Anderson, Vice Chairman and CEO of Best Buy commented on the two of them working together rather than independent, "we believe that we can collapse time." Perhaps that new revelation about the universe should be the bigger story.
The two will form a new company jointly owned which will include the 2,400 Carphone Warehouse stores, its Web and direct businesses, insurance operations, and airtime reselling businesses. For brevity, we're going to call it Best Warehouse.
Best Warehouse has three stated intentions
To continue to grow The Carphone Warehouse's existing retail business through further physical expansion in its existing European markets, the acceleration of the current evolution towards mobile and fixed line connectivity, growth in private-label products, and the realisation of benefits from joint purchasing, joint sourcing and merchandising optimization
To build a significant market share in consumer electronics retailing in Europe, through the roll-out of Best Buy stores, services and websites in selected markets, beginning in calendar 2009; and
To bring to Best Buy's core North American operations The Carphone Warehouse's expertise in sourcing mobility products, bundling services and operating smaller stores, thereby enhancing and diversifying Best Buy's skill set for improving its customer experience.
This is going to have a big impact for retailers of CE in the UK and across Europe.