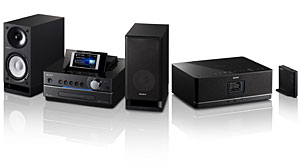 Details of these two systems have been knocking about t'web for what seems like ages, but Sony have finally given a loud parp on their PR trumpet and officially announced their new range of Giga Juke home audio players.

Sony NAS-SC55PKE
With a fantastically forgettable name, the Sony NAS-SC55PKE claims to be a "complete multiroom music system," packing a 80GB hard drive for storing up to 40,000 music tracks which can be wirelessly streamed around the house.
With support for Linear PCM, MP3, Window Media Audio and ATRAC compatibility, the Sony can scoop up music from CD, radio, external sources such as vinyl, or a home PC with automatic title labelling coming courtesy of Gracenote's music recognition technology.
The main server box hosts the HDD storage, CD player, FM/AM tuner (with DAB on UK models) with timed recordings, 4.3inch full-colour display, 100W output and matching speakers.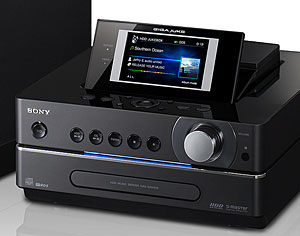 Tunes can be streamed to the NAS-C5E wireless player, which comes with its own built in amplification and speakers – and also a handy Internet radio.
Well heeled folks can shell out for up to four additional client players (one comes bundled with the unit) for that full multi room style.
There's also high speed (up to 16x) CD ripping, up to 50x transfer speeds for shunting tunes to connected MP3 player, mobile phone or PSPs and a 'x-DJ' function which automatically creates themed playlists for any occasion.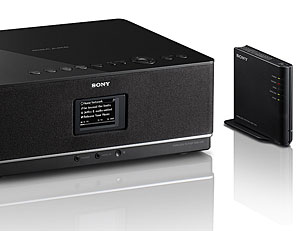 This apparently "intelligently analyses" tracks to categorise music libraries into 27 different channels to suit any occasion, with themed collections like such as 'good morning', 'party time' and 'slow life' (whatever happened to getting off you arse and selecting a tune for yourself?!).
NAS-E35HD
Sony have also released a cheaper version of the -SC55PKE, the equally memorably monikered NAS-E35HD, which does away with the Wi-Fi and groovy colour screen (replacing it with a monochrome jobbie), slows down the CD burning experience down to a miserable 4x and packs a smaller hard drive.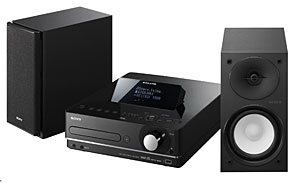 As if to literally reflect the lower status of this player, the press shots also came with no shiny relections – the poor old media player appears to have been plonked on a – God forbid – matt surface!