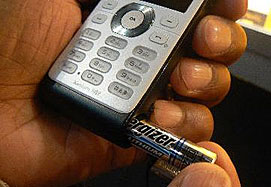 Sporting one of the daftest names we've seen for some time, Philips' new Xenium 9@9j mobile phone maybe not exactly roll off the tongue, but when it might be worth learning the pronunciation if you're after a phone with a King Kong-sized battery life.

This slimline fella can sit in standby mode for no less than two whole months thanks to an onboard single AAA battery, which supplements the regular lithium battery.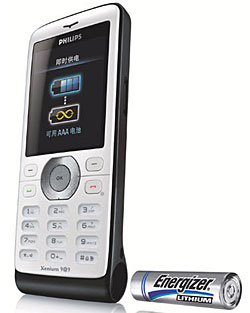 Serving as as a back-up, the Triple A battery cuts in when the standard Li-Ion starts to run out of puff, adding up to 2 hours of talk time on top of the already impressive 8 hrs total.
Employing a technology that the bods at Philips imaginatively called "backupower" (way to go creative team!) the Xenium 9@9j was first seen at the Mobile World Congress in Barcelona, but with no sign of a European release on the horizon, it looks like only Asia and CIS countries are going to be getting a slice of the long life pie for now.
Elsewhere, Nokia are about to launch the Nokia Extra Power DC-8, which is an external charger using the same technology.
Philips Xenium 9@9 specs
Quad band GSM (900/1800/1900/850 MHz)/GPRS connectivity
176×220 px 262K colour TFT display
1.3 megapixel camera
MPEG4, 3GP, H.263 video and MP3 and WMA audio playback
FM Radio
MicroSD memory card slot
USB 1.1, Stereo Bluetooth A2DP