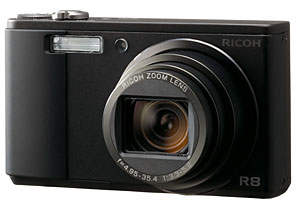 Ricoh have announced their new R8 compact digital camera, wielding a hefty 7.1x optical wide-angle zoom lens
(28–200 mm, 35 mm focal length equiv) and a 1/2.3-inch CCD, 10 megapixel sensor.
The R8, logically enough, succeeds the Caplio R7 and adds a large, 2.7-inch, 460,000-pixel HVGA LCD and packs the same 1:1 aspect square format photography function that has proven popular on Ricoh's excellent Caplio GX100 digicam.
Quietly doing its a-shimmyin' and a-shufflin' thing inside is Ricoh's CCD-shift image stabilisation system while the Smooth Imaging Engine III tries to wrinkle out da noize. There's also the usual face recognition, macro and movie functions all present and correct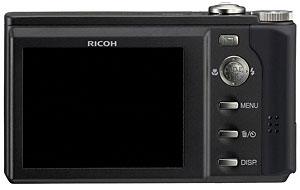 The body's had a redesign too, and looks all the better for it with sleek, slim lines and an uncluttered top plate presented in a tough, aluminum-clad package, measuring only 22.6 mm at the thinnest point.
The R8 will be available in March, priced around 250 quid. Ricoh will also be releasing the lower cost R50 digicam which keeps the 10 megapixel sensor, processing engine and image stabilisation, but the zoom is reduced down to a mere 5x affair.
Ricoh R8 – specifications:
Sensor: 1/2.3-inch CCD (total pixels: approx. 10.30 million pixels
Lens: Focal length: f=4.95-35.4 mm (equivalent to 28-200 mm for 35 mm film cameras. With Step Zoom set, option of seven fixed lengths: 28 mm, 35 mm, 50 mm, 85 mm, 105 mm, 135 mm, and 200 mm)
F Value: F3.3 (Wide) – F5.2 (Telephoto)
Shooting Distance Range: Standard: Approx. 30 cm – infinity (Wide), approx. 1.0 m – infinity (Telephoto)
(From lens tip)
Macro: Approx. 1 cm – infinity (Wide), approx. 25 cm – infinity (Telephoto) (From lens tip)
Zoom Magnification:
Optical: 7.1x zoom (equivalent to 28-200 mm focal length for 35 mm cameras),
Digital: 4.8x, Maximum: 34.1x (equivalent to 960 mm) when used with optical zoom
Auto Resize: 5.7*1, Maximum: 40.5*1 (equivalent to 1130 mm) when used with optical zoom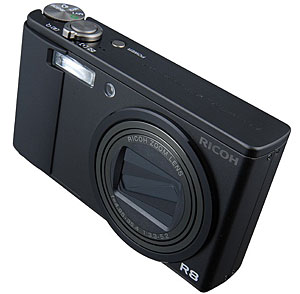 Focus Modes: Multi AF (CCD method) / Spot AF (CCD method) / Manual Focus / Fixed Focus (Snap) / Infinity (focus lock, AF auxiliary light)
Vibration Correction Function: CCD shift method vibration correction function
Shutter Speed:
Still image: 8, 4, 2, 1 – 1/2000 sec. / Movie: 1/30 – 1/2000 sec.
Exposure Control:
Exposure Metering Mode: Multi Light Metering (256 segments), Centre Weighted Light Metering, Spot
Metering (TTL-CCD metering method)
Exposure Mode: Program AE
Exposure Compensation: Manual Exposure Compensation +/-2.0EV (1/3EV Steps), Auto Bracket
Function (-0.5EV, ±0, +0.5EV)
ISO Sensitivity (Standard Output Sensitivity):
AUTO, AUTO-HI, ISO64 / ISO100 / ISO200 / ISO400 / ISO800 / ISO1600
White Balance Mode:
AUTO / Outdoors / Cloudy / Incandescent / Incandescent 2 / Fluorescent / Manual, White Balance
Bracket Function
Flash:
Flash Modes: Auto (fires automatically in low-light conditions and when the subject is backlit), Redeye-
Reduction, Flash On, Slow Synchro, Soft Flash, Flash Off / Flash Range: Approx. 20 cm – 3.0 m
(Wide-angle), approx. 25 cm – 2.0 m (Telephoto) (ISO Auto, distance from the front of the lens)
Monitor:
2.7-inch Transparent Amorphous Silicon TFT LCD (approx. 460,000 pixels)
Shooting Mode:
Auto Shooting Mode / Scene Modes (Portrait / Face / Sports / Landscape / Nightscape / High Sensitivity
/ Zoom Macro / Black&White / Sepia / Skew Correction / Text), My Setting Mode / Movie Mode
Picture Quality Mode:
F (Fine) / N (Normal), No. of Pixel recorded:
Still image: [4:3] 3648×2736, 3264×2448, 2592×1944, 2048×1536, 1280×960, 640×480, [3:2] 3648×2432 / [1:1] 2736×2736
Movie: 640×480, 320×240 / Text: 3648×2736, 2048×1536
Recording Media:
SD memory card (3.3V: 32, 64, 128, 256, 512 MB, 1GB, 2GB), SDHC memory card (4GB, 8GB), Multi-
Media card, Internal memory (approx. 24 MB)
Storage Capacity (Number of Pictures):
Still image: 3648×2736 (F: 6, N: 11) / 3648×2432 (F: 7) / 2736×2736 (F: 8) / 3264×2448 (N: 13) /
2592×1944 (N: 21) / 2048×1536 (N: 32) / 1280×960 (N: 58) / 640×480 (N: 219)
Movie:
640×480: 15 frames/sec. (36 sec.), 320×240: 15 frames/sec. (1 min. 10 sec.) /
640×480: 30 frames/sec. (18 sec.), 320×240: 30 frames/sec. (36 sec.)
Recording File Format:
Still Image: JPEG (Exif ver. 2.21)
Text: JPEG (Exif ver. 2.21)
Movie: AVI (Open DML Motion JPEG Format compliant)
Other Major Shooting Functions:
Cont / S-Cont / M-Cont, Self-Timer (operation time: approx. 10 sec. / 2 sec.), Interval Timer (Shooting
interval: 5 sec. – 3 hours (5 sec. steps), Colour Bracket function, Fix Min. Aperture, AF/AE Target
Shift, Record Dual Size, Histogram, Grid Guide, Enlarge Photo Icon, Playback Image Rotation function
Other Major Playback Functions:
Grid View, Enlarged Display (maximum 16x), Resize, Level Compensation, White Balance Compensation,
Trim
External Interface:
USB 2.0 mini-B, High-Speed USB, Mass storage compatible / Audio Out / Video Out
Video Signal Format: NTSC, PAL switchable
Power Supply: Rechargeable Battery: DB-70 1x, AC adapter (AC-4f optional)
Battery life: Based on CIPA Standard: Using the DB-70, approx. 270 pictures*9
External Dimensions:
102.0 mm (W) x 58.3 mm (h) x 26.1 mm (d) / (22,6 mm) (d) (excluding projecting parts)
Weight: Approx. 168 g (excluding battery, SD memory card, strap), Accessories approx. 26 g (battery, strap).