PLEASE NOTE:We don't have the phone number for the Nokia Store – Sorry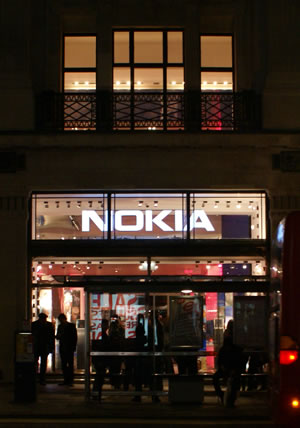 Last week saw the opening of the Nokia Flagship Store in Regent Street, London.
It's their first in the UK and eighth in the world, all following on from the December 2005 opening of their first in Moscow.
Opening night
The pre-opening night party was crammed with all sorts of funky music types, mobile world people and journos swigging the plentiful champagne and yummy nibbles.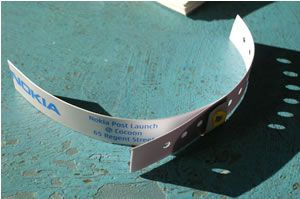 Lots of interesting chats were to be had, if you had the inclination, such as the many we had with Thom Stoodley, a graphic designer who had shot some pictures for the Nokia shop.
In true music biz style there was an after-party that ran well into the small hours, held at Cocoon, down the road near Piccadilly Circus.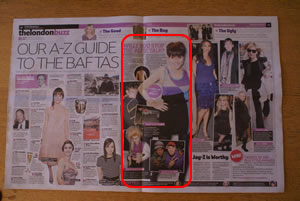 Open of the London papers, thelondonpaper featured the launch, bang in the centre of the paper, something that must have pleased Nokia and the organisers a great deal.
What's the shop like?
We popped along to get the lowdown on what was going to be on offer to the public, if they were to wander through the doors.
First thing, Nokia was keen to point out was that you're not viewed as a punter, a sales target, or a customer. We were told that when you enter the Nokia Flagship Store (or shop as they used to know in the the UK), you are a Guest.
They're not going to push product at you to buy, but are there to tell you everything that good about Nokia and mobiles generally.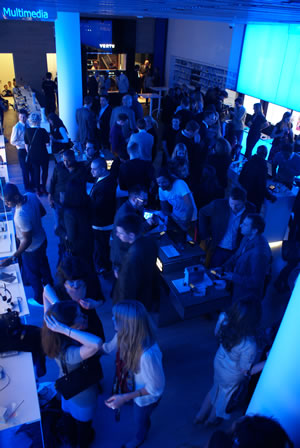 Ground Floor
In a true minimalist style, the expansive shops contains … well, not that much really. Let's rephrase that, not too much.
There's are over 50 handsets available on the ground floor where you can try them all out, with live models.
If the urge takes you, they're not going to argue with you if you want to buy one of them, with stock a plenty outback.
There are whizzy screens along the walls that show pictures that people have sent in of their friends – a smart move by Nokia, bound to get people coming into the shop to check if they're up there.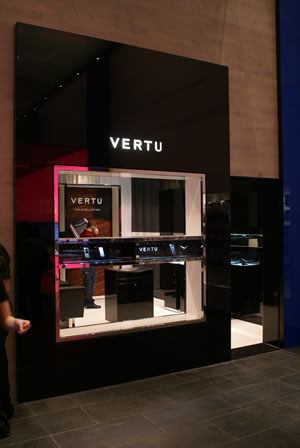 Vertu
When Nokia first launched the _totally_ expensive phone brand, Vertu, they were very keen to keep the two brands apart.
This made us all the more surprised to see a Vertu shop at the back on the London Flagship.
It looks like a super posh jewellery shop which isn't surprising when you laying down multiple thousands, possibly tens of thousands for a mobile handset.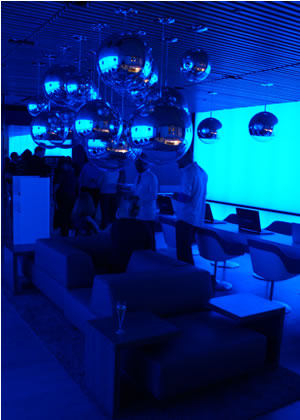 Upstairs
It's broadly split between an experience area and a training zone.
There are computers up there and separate video screen that you can sit behind to get trained up on products.
The rear section upstairs has an area where you can get personal training on how to use the features of your phone – parallels with the modestly-named Genius Bar in the Apple shops.
The Nokia shop will also be holding classes to teach people how to make the most out of their mobiles. Initially they plan to hold three classes a day, four times a week.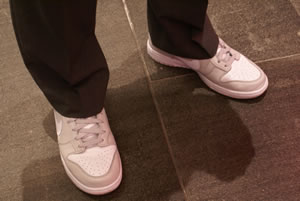 The Staff
The team that work there are all ultra keen to help out as much as they can, and because of the high profile of the shop are super tuned on the products and
Small detail – they're dressed in a casual light-beige style complete with shoes that were custom made by Nike for Nokia.
Overview
It's well executed and we imagine it will become popular with many — possibly as light relief from shopping trips — as they drag themselves up and down Regent Street.
Some may draw parallels with the Apple shop, but remember that Apple didn't invent every idea that they integrate into their products or shops, they're just great at pretending that they did.
Moves like this from companies show a certain maturity, demonstrating that they have continuing ambitions to enter people's lives.