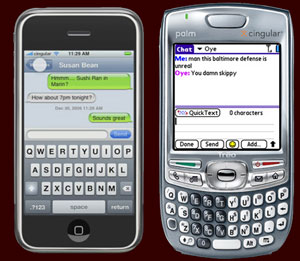 Us Brits are still staying glued to the keypads of our mobiles, with new research showing that an astonishing total of 57 billion messages were sent last year.
Despite more phones being capable of receiving and sending email, the figures from the Mobile Data Association show SMS volumes continuing to soar, with volumes up 40% year on year.

In December that was a veritable texting frenzy with SMS figures up 55%, hitting 5,000 messages sent every second in December. The chimes of Big Ben at midnight on New Years must have almost been blocked out by the clattering and clicking of keypads as a record 290m "Hw R U? Hpy Nu Yr! LOL!" text messages were sent on New Year's Eve.
It's been a slow trudge since launching half a decade ago, but picture messaging is slowly starting to take off, with more than 448m being sent in the UK last year.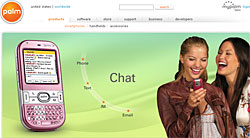 The report notes that flat-rate mobile broadband packages have helped make the mobile Internet more attractive for punters – December saw more than 17 million people accessing the Internet via their handsets.
"Mobile voice took off because it lets individuals do what they've always done and wanted to do, the way they've always done, but, with mobile, wherever and whenever they want. The same is becoming true of mobile Internet," insisted Jim Hyde, UK head honcho of T-Mobile, speaking in a language we barely understood.
"In time, broadband mobile will be individuals' primary way of accessing the Internet – and it will have a greater impact than even mobile voice has had," he added.