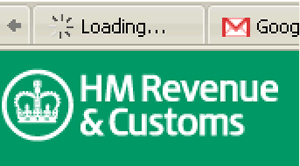 For those UK tax payers who haven't filed their Self Assessment tax return before today's deadline, looks like you're going to have a pretty stressful day.

The site that you use for filing https://online.hmrc.gov.uk/home isn't responding … until you get a screen telling you …
Online Service Temporarily Unavailable

We are sorry but the service is currently unavailable.
The site that provides support information about the online filing suggests that you "Avoid the Self Assessment peak" – but that's not the point of the online/on-demand/always on-call world that we live in now is it? We all want to be free, right?
Well tough … suck it up matey. This is the government you're dealing with, so get ready for your £100 + interest late filing bill and be happy about it.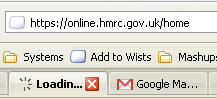 ie6 users beware
Digging through the Service Issues log (isn't it amazing the lengths that we go to for you?), we also saw that the whole site has problems with Microsoft's ie6, as it warns that you "may receive an error 'The Page Cannot Be Displayed'."
Right on for the team behind the service for recommending that user download Firefox or Opera "as an alternative web browser."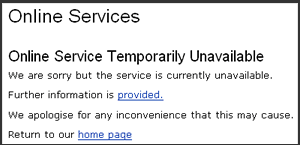 Just about to start filing online?
If you're just sitting down to start doing it now, not only will you be down-hearted by reading the above, but you're also going to find out that you should have applied for a PIN, that is posted to you, about a week ago.
The long and the short of it is … you've got no chance of filing today.
Sorry for the bad news. Looks like there's very little you can do about it. Don't Worry. Be Happy.