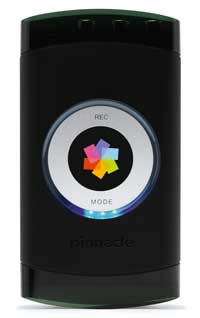 Pinnacle are launching the Pinnacle Video Transfer analogue to digital video ripper at CES.
If you're fed up with having to switch on your computer to rip a video to play on your digital media player, your life could become a little easier.
The pocket-sized device can take any S-Video, Composite video and stereo audio analogue source as an input and cleverly the digital H.264 output is stored on any USB storage device, including Apple iPod Video, iPod nano (3rd generation), iPod classic, Sony PSP, Sony PSP slim, USB flash drive or USB hard drive.
The quality of the video can be set to one of three different levels – Good, Better, Best – depending on their preferences for video quality or the actual size of the video files.
Uses run through the obvious of capturing TV, DVD player, PVR, camcorder or set-top box directly to the less obvious, like capturing video game sessions for showing to their mates later.
Priced at £100, it's expected to be available in the UK soon.