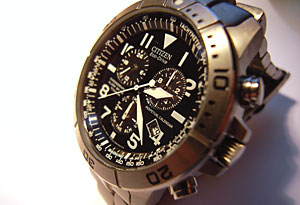 Like many blokes, we can't help ourselves being drawn to complicated looking watches, stuffed full of rotating bezels, dials and obscure markings, and if the thing comes in a chunky metal case and lights up like a Christmas tree at night, all the better.

Naturally, it has to be waterproof to something like twenty thousand leagues under the sea (even if it's unlikely to go much deeper than the washing up bowl) and come liberally furnished with buttons, functions and a beefy strap. Oh, and if it looks like the kind of thing a commando would wear on a heroic mission, we'll be even more interested.
But there's not much point having all that manly technology pulsating away on your wrist if the battery conks out when you're scaling the Eiger, and here's where the Citizen Eco-Drive watches caught our eye.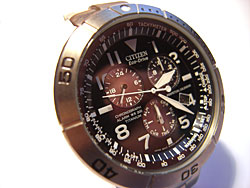 Eco Drive technology
The clever-clogs Citizen Eco-Drive watches are powered by an amorphous silicon solar cell lurking behind the dial which converts any form of light into electrical energy – so the watch will continuously recharge itself over a lifetime of use
The power is then stored by a "revolutionary" lithium-ion rechargeable battery which Citizen claims can store enough energy to power the watch for anything up to four years, depending on the model.
It's intelligent too – so if the watch is kept in the dark for a long period, it switches to a sleep mode to conserve energy, with the second hand parking itself at the 12 o'clock position.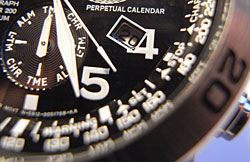 As soon as the watch is exposed to light again, the second hand whizzes across the dial to the correct time.
Although the light-powered technology no doubt adds a few bob to the cost of the watch, it's worth bearing in mind that when you replace the batteries on a conventional sports watch you'll probably have to send it off to have the case resealed properly – an unwelcome extra (recurring) cost and inconvenience. With the Eco-Drive you can kiss goodbye to buying batteries forever.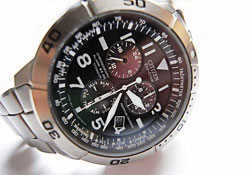 Citizen Men's Perpetual Calendar Eco-Drive watch BL5250-53L
We decided on the above model, which comes clad in light-but-tough titanium case ("50 percent lighter than steel, but 30 percent stronger," fact fans!) and offers an alarm, 1/20-second chronograph and perpetual calendar, automatically adjusting for leap years through to 2100.
Gadget fans will no doubt warm to the pleasingly complex display of three sub-dials, including a 24-hour display and a mode dial for selecting local time, calendar and alarm functions.
Dominating the display is a pair of large, luminous hands that glow a pleasing high-tech blue at night, along with a white second hand, plus a date display window at 4 o'clock.
The watch is protected by a scratch-resistant, non-reflective mineral glass crystal with water resistance down to 200 meters (660 feet). So we should be OK the next time we go for a dip at Barry Island.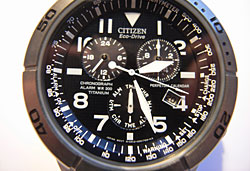 Running outside the watch is a tough, engraved, 'elapsed time' unidirectional bezel with interior tachymeter, which we actually found a use for! (if you time the gap between railway mileposts you can bore your fellow passengers with regular updates about the train's speed). See: more uses for a tachymeter.
In reality, most people would probably use the handy rotating bezel for timing tasks. We certainly did.
Part two of the review looks at how to use the watch and our conclusion.