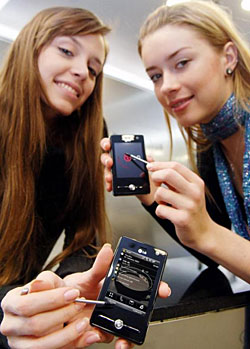 Trying to kick over some of the Apple party tables before Friday's iPhone's launch is LG's new business smartphone, the LG-KS20.
Announced at the IFA 2007 in Berlin, the LG-KS20 HSDPA touchscreen smartphone will initially be released in France and Germany with other countries following hot on its trail.
Evoking memories of the recent 'Life On Mars' TV programme, a pair of dolly birds were roped in to 'sex up' the product, with the 70s-style press photos showing the two glampussies lovingly caressing the new phone.

You can imagine the creative meeting:
LG boss: "Make it look sexy!"
Creatives: "But it's just a black slab that looks like every other phone out there"
LG boss: "Sex sells! It has to look glamorous!"
Creatives: "But it's just a bland black box with an average size screen and no innovative features. There's nothing sexy about it at all."
LG boss: …thinks… "Then call in the hotties! Problem solved!"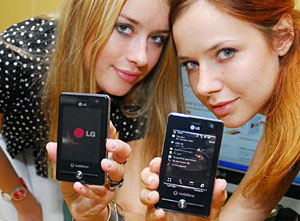 We're not entirely sure that a 2.8 inch 240×320 pixel colour touch-screen, 2MP camera, WiFi, MP3 player and Bluetooth would be enough to bring such an adoring smile to the model's faces, but it seems a fairly well specified device for business folks.
Internet access should be fairly nippy too with HSDPA-toting, 12.8-mm thick handset serving up 3.6Mbps data rates, while the unit coming with a telescopic, built-in stylus which will most certainly be needed for the fiddly Windows Mobile 6 interface.
The unit measures up at 99.8x58x12.8mm, weighs 92.5g with pricing to be announced by local carriers.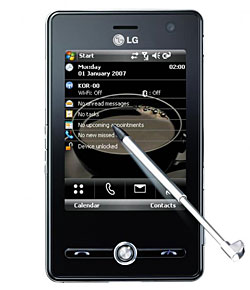 Specs:
Networks GSM Europe/Asia bound phone, supporting both frequencies and one for roaming in America ( 900/1800/1900 MHz), UMTS European/Asian 3G ( 2100 MHz)
Data GPRS/EDGE/UMTS/HSDPA 1.8 Mbit/s/HSDPA 3.6 Mbit/s
3G Support Yes
Size 3.9 x 2.3 x 0.5 inches (99.5 x 58 x 12.5 mm)
Weight 3.4 oz (95 g)
Battery Capacity 1050 mAh
Talk 4 hours ( 240 mins) of Talk time
Standby 400 hours ( 17 days) of Stand-by time
Main Display 240 x 320 pixels, 262k colour TFT
2.8 inches, touchscreen with stylus and handwriting recognition
Camera 2.0 megapixels Resolution
Video Yes
Features Flash, 4x Digital zoom, Auto-Focus, Additional VGA camera for video calling
Multimedia
Video Playback
H263, H264, MPEG 4, 3GP formats supported , Windows Media Player
Music Player
MP3, AAC, AAC+, WMA formats supported
FM Radio
Memory 128MB internal, microSD
OS Windows Mobile for Pocket PCs 6.0
Connectivity USB, 802.11b, Bluetooth 2.0