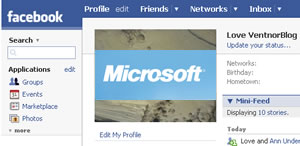 Microsoft have bought a teeny tiny piece of Facebook for $240 million, in return for they get 1.6 per cent of Facebook and the privilege of "expanding their advertising partnership."
At those rates, Facebook is valued at $15 billion, not too shabby for a company founded in 2004, but reflecting their huge growth with around 200,000 new users registering daily.
The deal has been discussed by everyone, so it's not really a surprise.
During Google's Analyst Meeting yesterday, there were questions about if Google were planning to invest some money in Facebook. With this deal with Microsoft, it's probably right to assume that Google will be shut out.