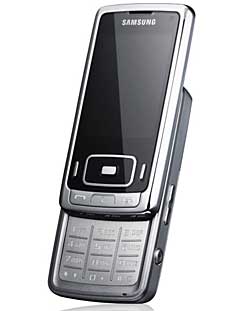 Samsung has pulled on the little rope and sent the velvet curtains shimmying asunder to reveal the Samsung G800, triumphantly declaring it the world's first 5 megapixel camera phone with 3x optical zoom.
Although the quality of phone cameras has been increasingly steadily recently, most come burdened with the digital zoom, which is, frankly rubbish.

All a digital 'zoom' does is digitally enlarge a portion of the image – that is, the camera crops a portion of the image and then blows it up, losing a ton of quality on the way. On the other hand, an optical zoom uses the optics to zoom to bring the subject closer and thus no cropping occurs. So digital = bad, optical = good.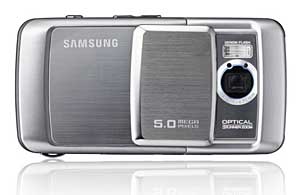 Back to Samsung's shiny new slide-out G800, the five megapixel snapper also comes with face detection, Wide Dynamic Range (WDR), panorama functions, multi shots and macro shots, with the phone presenting a camera-like interface when shooting.
Getting a little carried away, Samsung claim that the phone also offers "professional video editing functions" letting users cut, paste, and edit their own films.
The back of the phone is designed to look like a regular digital camera with a sliding lens cover, while the thing measures up at a reasonably pocketable 101 x 51 x 19mm.
Conveniently, the 3x optical zoom employs an inner zoom mechanism, so there's no whirring lens extending out of the body of the phone, keeping the fella nice and slim in use.
Geesung Choi, President of Samsung's Telecommunication Network leapt to the podium and was ready to enthuse like a pro: "As multi-megapixel camera phone becomes more and more popular, the needs of actual digital camera-like features grow together. Samsung's G800 will satisfy the unmet needs in the camera category with a true digital camera-like design and functionality. The G800 will enable users to capture and share precious moments in their daily lives through the enhanced camera functions in a fast 3G network."
The Samsung G800 will be shipping in Europe from November. Pricing to be announced.