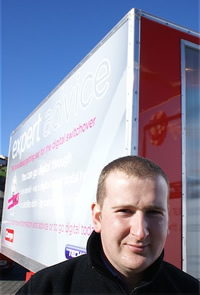 As you're aware there's lot of new things being tried out in Whitehaven for the UK's first analogue/digital switch over.
One that electrical retailer Currys is trying out is a showroom/shop that can be driven to remote areas giving those who are miles away from a shop, or who aren't that mobile.
It's a pretty substantial lorry that has side section that extends outwards providing a lounge-type feel.
There's four flat screens on display (co-sponsored by Samsung) and a selection of eight STBs on show to demonstrated the range of boxes on view.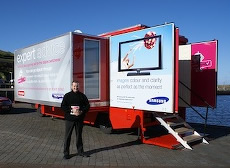 We chat to David Ryde both outside the vehicle and inside covering what the intentions of it.
Currys is the chain of shops that has been brought to prominence since DSG hit severe problems with public confidence in the then primary electronics retailer, Dixons.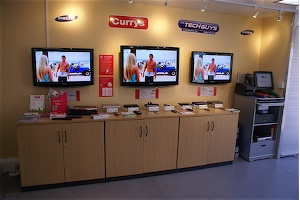 Currys is now not commission driven and are putting themselves across as being a company that people can come to for expert advice.
Apologies for the wind noise at times in the outside section – it was 'quite' windy :)
[audio:https://digital-lifestyles.info/media/audio/David-Ryder-Currys-Support-Vehicle.mp3]