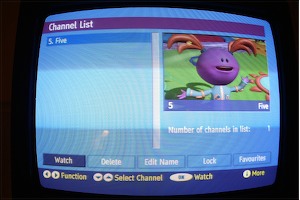 We've dragged ourself out of bed to have a quick check that the Whitehaven Switch Over was a success.
You'll be aware of the considerable build up to this pivotal event for UK TV.

Analogue BBC2 – Now showing ITV – Check.
Digital channels – Still just showing Channel 5 – Not a surprise (to us at least), as Set Top Box (STB) needs retuning to find new channels.
Auto retune STB – Channels appear – Check.
View digital BBC1, BBC2, Five, BBC Three/CBBC, BBC News 24 & BBCi – Check.
Overall Success. Hurrah.
Imagined reaction. All people involved with the process being very happy.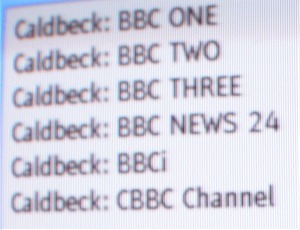 One Issue: The STB needed retuning to show the new channels. We expected that, but whether the citizens of Whitehaven did, is a question mark. If they didn't, they'll just see the same Channel 5 that has been there for a while, and not the selection of new channels. We'll get on the streets a bit later to find out how they got on.
UPDATE: Speaking to the Digital UK people on the ground here, they tell me that all of the literature tells people they need to retune their STBs.
Slightly tragic that the first thing that was shown on BBC1 breakfast news was that sweeping job losses at the BBC!
We'll follow up on the process with the team later.
These on-the-spot reports were made possible by the use of USB 3G Modem, running on the Vodafone network.