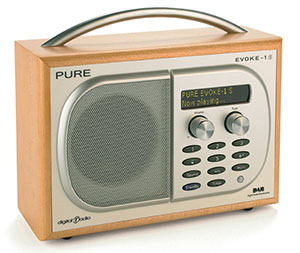 DAB digital radio dynamos PURE Digital have announced the TEMPUS-1S, the third update to their popular TEMPUS family of DAB bedside radios.
Sporting the same bedroom-friendly real wood, cherry veneer casework, the TEMPUS-1S hopes to soothe twitchy sleepers and all-night insomniacs into a deep slumber with its collection of 'Natural Sounds.'

These digitally recorded sounds include birdsong, forest rain, thunderstorm and lapping waves and can played as background music, used as an alarm tone or looped for up to 90 minutes before gradually fading out to silence.
If the user hasn't nodded off by then, we'd suggest knocking themselves on the head with a Tom & Jerry styled mallet.
On the front of the unit there's a two line OLED (Organic Light Emitting Diode) display providing station and status information, with the brightness being automatically adjusted by a light sensor.
There's also Intellitext onboard for browsing stored scrolling text and textSCAN to pause and control scrolling text.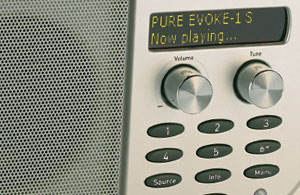 The new Tempus bumps up the station preset count (30 DAB or FM RDS) and adds an auxiliary input to connect an iPod or MiniDisc player.
As with previous models, there's a SnoozeHandle on top for controlling the alarm, advanced alarm settings including weekday, weekend or one off, wake fade up and sleep fade down, USB upgradeability and an optional stereo speaker.
Although the unit is mains powered, there's an optional in-unit rechargeable 'ChargePAK' available which Pure claims will give up to 24 hours of portable listening between charges.
The Tempus comes with enough environmental credentials to bring a smile to Swampy's face, boasting a standby power consumption of less than 1W, with packaging made from a minimum of 70% recycled material, and documentation printed with soya-based ink on 100% recycled paper. Right on, Pure!
We hope to get a review model soon, but the TEMPUS-1S should be in the shops for around £100 in October.
Specifications:
Stereo digital radio (stereo output requires optional auxiliary speaker, headphones or external amplifier) with full Band III and FM reception. ETS 300 410 compliant and capable of decoding all DAB transmission modes 1-4 up to and including 256 kbps. Supports FM RDS and RadioText.
Frequency ranges: Band III 174–240 MHz, FM 87.5–108 MHz.
Speaker: Full-range 3″ drive unit.
Input connectors: 6V DC power adaptor socket (230V supplied). ChargePAK connector. 3.5mm Line-in for auxiliary devices. USB (B type) for product upgrades.
Output connectors: 3.5mm headphone, 3.5mm line out (analogue), 3.5mm auxiliary speaker connection.
Controls: 5 dedicated one-touch presets, 1 combined preset, source, timer, menu, standby and info.
Presets: 30 DAB and FM presets in a combined list.
Display: High contrast yellow-on-black graphical 128 x 22 auto-dimming OLED display.
Mains power supply: 230V AC to 6V DC external power adapter.
Dimensions (mm): 175 high x 210 wide x 110 deep.
Aerial: Captive telescopic aerial.
Warranty: Comprehensive two year warranty.