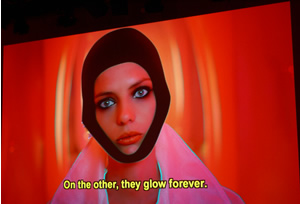 Philips continue their run of staging press event differently. At IFA they started with a stage with dancers, before the boss came on stage to tell us all about the wonderful things they'd been working on.

The hoopla was mainly to draw attention to their new TV range – Aurea.
The most notable feature for this range is the next generation of the Ambilight – the system that emits light around the back of the TV screen.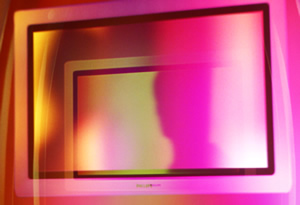 This version, that they call Active frame, varies the light to reflect the changing colour and actions that are shown on the screen.
There are two targets for the light emitted – one through a diffuser box towards the front screen surround, the second point towards the rear wall.
The 42″ screen itself (it's initially only available in 42″) runs up to 1080P and has 100 Hz refresh rate.
Less visible – because it's invisible! Were the 26 speakers. There's two 12 speaker arrays and two sub woofers and the bottom of the screen.
There is only one Sun
To promote the Aurea Philips has commission a film called "There is only one Sun" by Wong Kar Wai.
Those at the press conference benefited from seeing the World premier.
We found it to be very stylishly shot, using saturated colours, but the content of the film itself was a little light.
The appearance of the Philips Aurea TV was clumsy and forced – looking like it had been shoehorned into the script.
This was written on a Blackberry Curve and sent via the Vodafone network.