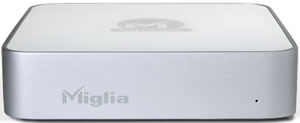 Miglia has released a hard drive unit for the Mac Mini that sits underneath the Mini, matching its styling.

It comes in two models, the 320GB and 500GB, both of which benefit from fanless cooling, bringing down the units to "almost silent" operation.
They've got FireWire 400 and USB 2.0 ports on board for connecting to the host Mac Mini, but also feature a 3 Port FireWire and 3 USB 2.0 hub.
Pricing is £119 (inc VAT) for the 320GB and £169 for the 500GB.
There's been a lot of rumours around a new Mac Mini (isn't there always with Apple kit?) – indeed it was thought that this might have happened a couple days ago when the new iMac was introduced.
If the Mac Mini changes it form or styling drastically it may not exactly match this box. Having said that Apple design is normally a progression not a sea-change.