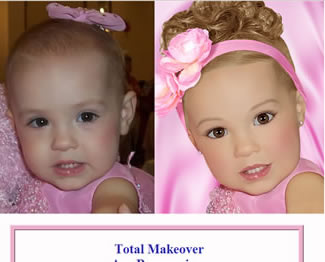 We've seen some mighty weird things on the Internet over the years, but this American- based Profes- sional Pageant Photo retouching site easily has to be one of the spookiest things to appear on our screens for a long time.

As if the whole concept of pre-teen beauty pageants wasn't weird enough, this site offers to retouch photos and turn pictures of perfectly normal looking children into weird plastic mutant dolls. It's really quite unsettling.
Reading through the list of Photoshop 'enhancements' added to the children's photos sounds like a plastic surgery wishlist for Joan Rivers, with the author describing 'improvements' such as, "Teeth replaced, "Skin blended," "Lipstick line corrected (top lip bow added)," "Dark Circles removed, "Brows cleaned up" and "Lashes added."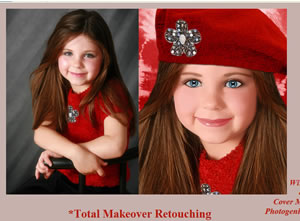 The company also offers an intriguing "Total Makeover Age Progression" retouching service for, "children who are growing and changing quickly."
Using another mix of Frankenstein Photoshop techniques, this promises to artificially age babies and young children by "removing baby fat, adding eye liner and lipstick" along with other weird changes to create an utterly bizarre looking creation.
The basic photo retouching service comes in at $40 per photo with the Total Makeover Retouching service offering to implement more radical changes for $20 more.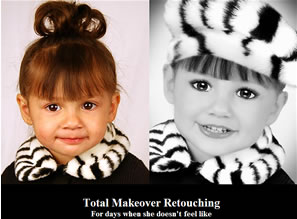 These changes can include replacing the child's hair with an "all new hair style," adding a hat or (and we kid you not) "replacing facial features (a whole new mouth, etc.)"
Bizarrely this photo apparently won the "APB Mrs. USA" competition (whatever that is). We imagine the judges might have been a tad surprised when the subject came to collect the prize.
Gaze in horror at some of the examples to be found here:
Total Makeover Retouching example
Total Makeover Retouching example
Another positively terrifying collection of bizarre humanoid/plastic Photoshop constructions can also be viewed here: supremepageantphotos
Please someone tell us it's not for real.