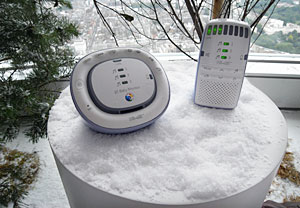 Kudos to BT for putting on an impressive launch for their new range of techie goodies coming out for the winter season.
The launch was 34 floors up near the top of London's landmark building, the BT Telecom Tower (still known to old folks as the GPO Tower or the Post Office Tower), with the press launch taking place inside the revolving restaurant.

Bizarrely once part of Billy Butlin's empire, diners would be treated to an unfurling vista of the metropolis with their tables being sited on a 3-metre wide revolving segment which slowly span through 360 degrees every 22 mins (a gentle speed of 0.17 km/h).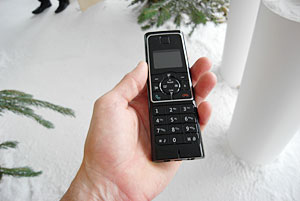 Heavy drinkers retiring to the loo would famously come out looking very confused as their table had quietly shuffled out of sight during their time in the karzy – and if you accidentally found yourself siting betwixt the moving and static parts, high comedy was guaranteed.
Anyway, back to BT's launch. Getting firmly stuck into the winter theme, the entire circular floor was kitted out as a snowy winter's landscape, with Christmas trees, fake snow and yule logs everywhere. We loved it.
Sadly, the revolving floor was turned off for the day, but we were free to roam around and be shown prototypes and planned launches for the festive season.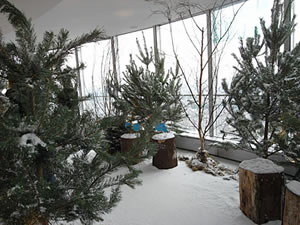 The Nintendo Wii boys were in town spreading synergetic BT love, while we were shown a selection of forthcoming DECT/VoIP phone releases and handed swadges of PR guff for BT Fusion Mobile Services, BT Home Hub, BT Vision, BT Credit Card and the new BT Snap and Send service which lets punters upload photos from their phone to the BT Digital Vault.
The two remote baby monitors were particularly impressive, although louche parents may be unchuffed to learn that the receiver's range is unlikely to make it to the nearest pub.
Inbetween snaffling every passing strawberry champagne jelly we could get our hands on, we got to chat to cheery BT reps and, of course, take in the fantastic view.
It was a tad odd to be looking out over London in August from an elevated Santa's grotto, but we rather liked it.
As we left we were give a rather strange DECT phone called the BT Mango which looks like it's designed for children under six – all bright orange colours and plastic chunkiness. We'renot sure about it, but we'll give it a look later.
More info: BT Shop
Views and history of the BT Tower