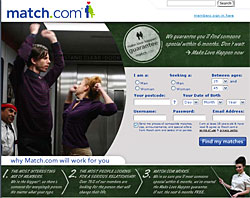 Impatient lotharios and time-challenged romance hunters should welcome the launch of online dating service, Match.com's new MatchMobile text application.
The new service for cell phones sends subscribers text messages when they get a 'wink' or e-mail from another Match.com subscriber, and if they don't like the look of them, they can also search for other potential matches from their mobiles.

"With the new MatchMobile, we're letting people connect with their matches the same way they connect with their colleagues, friends and family – instantly and through the convenience of a cell phone," said Thomas Enraght-Moony, CEO of Match.com.
"With MatchMobile, we have changed the dating dynamics. We've taken away the waiting and wondering by giving members instant access to not only emails and winks, but also the entire Match.com network, whenever and wherever they are," he continued.
"Imagine what MatchMobile will do for the business traveler who's constantly on the go, waiting for a flight home," piped up Dr. Ian Kerner, a Match.com relationship expert (a what?!)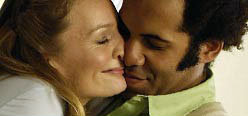 "They're thinking of the long, lonely weekend ahead, and suddenly they receive a wink or an email – it could brighten their day and change their Saturday night plans," he continued in his rather suggestive way.
Perhaps they might even get to indulge in a curious bout of mutual nose-squashing, as seen in their website (see pic).
According to tracking firm M:Metrics, around 3.6 million U.S. cell phones subscribers used a mobile dating service in May 2007, with Frost & Sullivan forecasting that revenue from such services will grow to $215 million by 2009.
Match.com's first mobile phone dating service was used by nearly half a million subscribers, and the new application will give subscribers access to their database of around 15 million registered users.
The service will launch in the United States, UK and Canadian markets first, with plans to extend the service to nine other countries by the end of 2007.