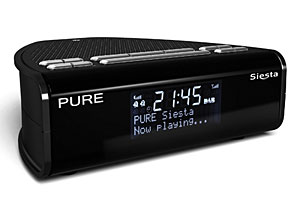 Brit audio firm Pure Digital have announced a new affordable and rather dapper DAB and FM clock radio called the PURE Siesta, which offers market-leading standby power consumption and a host of green initiatives.

Part of the PURE EcoPlus range, the Siesta boasts DAB and FM/RDS bands, 16 presets, a headphone socket, an auto-dimming display, snooze button, three independent alarm settings (playing tone, DAB or FM) and the ability to conveniently set different alarm times for weekdays and weekends.
On the front of the unit is a large LCD display showing the time, status icons, with news and sports headlines supplied by Intellitext and TextScan providing pausable scrolling text for grabbing displayed web addresses, competition phone numbers, song titles etc.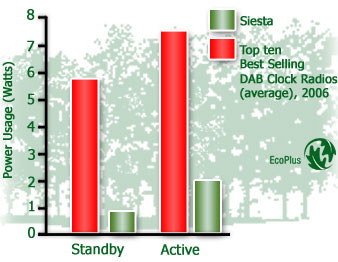 Pure are quite rightly making a big hoo-hah of the unit's environmental credentials, with the Siesta offering an impressive standby power consumption of less than 1W – considerably less than the more normal 5w+ – and they've made an effort with the packaging too.
Instead of the depressing pile of plastic that still comes with most products, Pure's packaging is made up from a minimum of 70% recycled material and finished with water based varnish. The accompanying documentation is printed on soya-based ink on 100% recycled paper.
The Siesta will be available in black, charcoal or silver, and retail for a very reasonable £49.99.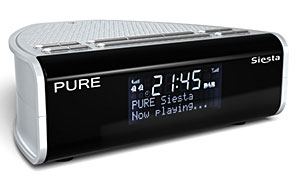 Specifications
Digital radio with full Band III, L-Band and FM reception. ETS 300 401 compliant and capable of decoding all DAB transmission modes 1-4 up to and including 256 kbps. Future upgrade supported for DAB+.
Frequency ranges: DAB Band III 174–240 MHz, DAB L-Band 1452-1491 MHz and FM 87.5–108 MHz.
Speaker: Full-range 3″ drive unit. 1.7W RMS amplifier. Active speaker equalization filter.
Input connectors: 5.5V DC power adaptor socket (230V supplied). Mini USB connector for product upgrades.
Output connectors: 3.5mm stereo output for headphones.
Controls: Power on/standby, volume +/-, snooze, menu, DAB/FM, sleep, alarm, preset, tune/select, select +/-.
Presets: 8 DAB and 8 FM presets.
LCD display: LCD display with 16 x 2 characters, plus additional function icons (volume, alarms, signal strength, source selected, RDS and DAB) and large clock. Features autodimming backlight.
Mains power supply: 230V AC to 5.5V DC external power adapter.
Approvals: CE marked. Compliant with the EMC and Low Voltage Directives (89/336/EEC and 73/23/EEC).
Dimensions (mm): 170 wide x 145 deep x 62 high.
Aerial: Wire aerial attached.