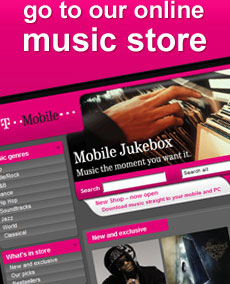 T-Mobile has announced their new Mobile Jukebox service which lets roaming customers download purchased DRM-protected tracks to both their phones and their PCs for a quid a pop.
The service uses a mobile application which is available for downloading to a selected range of 32 T-Mobile phones, including 3G, GPRS, contract and prepay handsets.
Users can rummage freely through the 500,000+ track output of major record labels like Universal Music Group, Sony BMG Music, EMI Music and Warner Music International, and independent labels like V2 and Beggars Banquet.

Once you've shelled out your quid for a track, you'll get two downloads of the same track, one highly compressed version for your phone, the other a higher quality WMA format file for playing and storing on your PC (at the moment the service is still mobile download-only).
T-Mobile calculate that it will take around 30 seconds to download tracks over a 3G connection, stretching to 2-3 minutes for the lowly GPRS crew.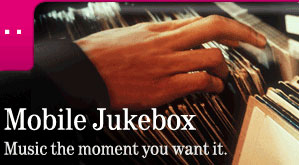 At the moment, Mobile Jukebox will only let you play the tracks on the phone you downloaded it to, although backups of all your bought tracks will be eventually kept by T Mobile at www.music.t-zones.co.uk, so if some pesky no-mark legs it with your phone, you can easily replace all your tracks.
To entice customers to sign up to the service, T-Mobile will be offering five free tracks to punters buying a Mobile Jukebox handset during July.