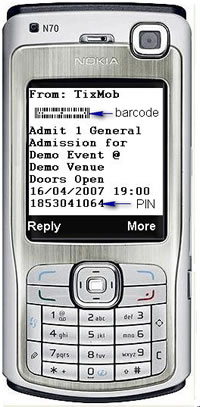 'Green' festival uses mobile tickets to save the world.
With the glorious … or was it gory-est … Glastonbury out of the way for at least another year (as well as the BBC's over-coverage), the other festivals around the UK now have a chance of getting their messages out that 1) They're on, 2) that they have everything that you heart desires.
Getting a new festival going these days is pretty hard as so many people are trying to do the same, realising that live music is where-it's-at as people generally become ever-more atrophied by recorded music.
New festival, Two Thousand Trees, have a very 'now' idea, labeling it as a festival for ethical music fans – and a very worthy one it is in our book too. Beyond this they also have a much-to-be-supported goal of "not ripping people off and making sure everyone has an awesome time at our lovely festival." Long may this ethos last.



Mobile Tickets
They've joined forces with TixMob, an online mobile tickets service in an effort to "eliminate the environmental and financial cost of printing and delivering traditional paper based tickets."
This appears to be born in fact too, as the direct to mobile tickets are the cheapest tickets available for the event anywhere online – £37. Another big bonus is that the tickets don't have to go through the post – another way the ticket buyer is stung – avoiding the stress of waiting for the tickets to arrive.
TixMob have clearly had a good think about how mobile ticketing needs to work, including the ability for one person to order the tickets for a group, but have them delivered to each of the individual's mobile phones.
Frankly, anything that can be done to introduce some competition to the giants like TicketMaster has to be a good thing in our book. They've had it far too easy for too long, leading to services that we've found inefficient and over-priced.
So if you fancy a small festival between 13 to 15 July – happily there's on 2,000 tickets going to be made available, making it sound a comfy, cozy event – check out their obligitory MySpace or their site and don't forget to share the lift-love at Freewheelers if you need to get there by car.