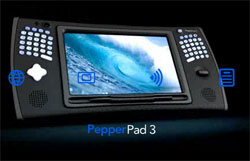 We can't say this its old school plasticky looks are exactly grabbing our gonads of pleasure, but the new Pepper Pad 3 certainly manages to pack in a fair bit of functionality.
Billed as being neither a laptop or a PDA, the Linux-powered "handheld media computer" invites comparisons with the Nokia 770 tablet, although there's far more going on underneath its (sizeable) hood.

The new Pepper Pad comes with speedier Wi-Fi and USB connectivity, enhanced Web and video performance and a built-in video camera.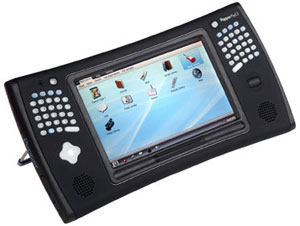 It's also smaller than previous models, but at 11.4″ x 5.9″ x .9″ thick (290/150/25mm) it looks to be stretching the definition of pocketability into MC Hammer proportions.
Text input is handled by a rather unwieldly looking QWERTY backlit keyboard split across either side of the 7 inch LCD touchscreen display with a 800 x 480 WVGA pixel resolution.
There's a 5-way Directional Pad and scroll wheel for zipping through the menus, with the device purring along on an AMD Geode LX800 processor backed by 256 MB SDRAM and onboard 20GB hard drive.
Other features include integrated VoIP, built-in stereo speakers, Bluetooth 2.0, e-mail (POP3 and IMAP4 accounts) support and a rather miserly claimed battery life of "2-4 hours.",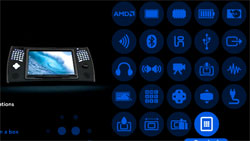 The Pepper Pad 3 is scheduled for release today for $699.95.
Specifications
Colour: Black, Pink, or White
Display Screen
7″ LCD Touch Screen
800 x 480 WVGA pixel resolutions
Sound: Built-in Stereo Speakers
Keyboard
Back-Lit Split Qwerty Keyboard
Scroll Wheel
5-way Directional Pad
Supports External Keyboard and Mouse via USB and Bluetooth
Dimensions: 11.4″ x 5.9″ x .9″ thick (290/150/25mm)
Weight: 2.2 lbs (998 gm)
Wireless Connectivity
Wi-Fi 802.11 B/G
Bluetooth 2.0 with EDR
Dual Infrared (IR) Emitters and Receiver
CPU: AMD Geode LX800 processor
Memory: 256 MB SDRAM
Storage: 20GB Hard Drive
Peripheral Jacks
USB Host Port
Mini USB Host Port
Stereo Headphone
Microphone
Composite Video-out
AC Power
Power
Lithium Polymer Battery (2 – 4 Hours)
100~240V/50~60Hz AC Adapter
Software
OS: Linux Kernel 2.6, Insyde BIOS
Graphics & Video: GTK+, X11, Free Type, Cairo, ALSA
File Systems: EXT3 (journaling), EXT2, FAT, VFAT/FAT32, HFS, HFS+
Network: TCP/IP, DHCP, Wi-Fi, WEP, WPA
Application Framework: Pepper Keeper, Java and XML-based application packages, package download and install, digitally signed, multiple security levels
Web: Mozilla Firefox 1.5 Javascript 1.6, XML, XSL, CSS
Music: MP3, AAC, WMA (streaming only), HTP/RTSP/MMS streaming, PLS/AU playlists, Helix framework
Video: MPEG-4, AVI, XviD, WMV (streaming only), HTTP/RTSP/MMS streaming, MPlayer and Helix
Photos: JPEG, GIF, Yahoo! Flickr sharing, Integrated Camera for image capture, Streaming or importing via Universal Plug n Play
Multimedia: Adobe Macromedia Flash 7
E-mail: POP3 and IMAP4, AOL Inbox, Web mail e.g., Yahoo! Mail, Google Gmail, MSN Hotmail and AIM Mail
IM: AOL IM
Documents: Adobe PDF Reader 7
EBooks: Amazon.com MobiPocket