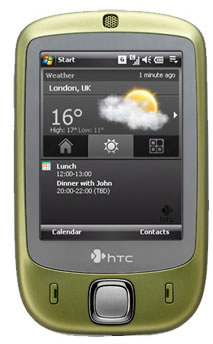 There was a large assemblage of HTC bigwigs in town for the global launch of their new Touch smartphone.
A sleek little fella sporting GSM/GPRS/EDGE, Tri-band radio (900, 1800 & &900), Wi-Fi and Bluetooth 2.0, the Touch launches in two flavours: "elegant soft black" and the truly daft sounding, "alluring wasabi green."
The big news about the phone – hyperbolically described as, "a watershed as important as the introduction of the mouse" – is HTC's new TouchFLO system, which lets users navigate screens by sweeping their finger across the phone.

With a simple stroke across the 2.8″ LCD screen, fave contacts, weather, applications and media pages can be summoned up via a futuristic 3D animation.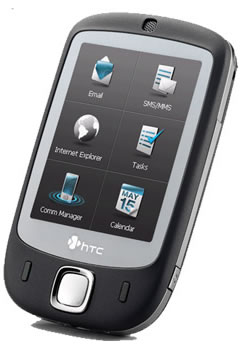 The crowd at the launch seemed suitably impressed, until we realised that the interface just sat on top of the comparatively dour Windows Mobile 6 interface, so as soon as you start clicking, you're dumped back to the Windows interface.
Also disappointing was the lack of any innovation in the keyboard department, with the Touch offering nothing more than the standard WM6 soft keyboard.
Our initial impression was of a half-finished product, with all the new features only being skindeep.
Sure, the phone looks lovely and at just 99.9mm x 58mm x 13.9mm will slip into any executives pocket with ease, but the lack of anything new going on in the keyboard department troubles us.
We'll be giving the phone a full review shortly, but can tell you that it's available now in the UK, with Europe following later in the month.
A US release is planned for the second half of the year.