SMC have launched a business friendly Wi-Fi HotSpot in a box (SMCWHSG14-G).
It's designed to support up to 100 concurrent users and comes with a printer so Wi-Fi access codes and invoices can be issued simply.

It's not just for WiFi clients as it supports wired customers too. The internal database can support just over 1,000 users. The system will also bill customers to their accounts.
As the price (849.99 EUR (£535)) suggests, it's not for the consumer market, but for businesses who want to provide WiFi services in many circumstances, such as visiting guests; a hospitality lounge, or even a bar or hotel wanting a secure way to offer connectivity.
Since everything's packaged for the business, we'd imagine that the mechanics of using it to provide services should be fine and dandy.
If you're in the UK there may be a few more things to consider.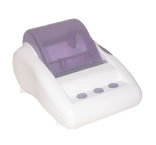 PECN
Everybody running a network is subject to the Communications Act. There are obligations under the act. Normally those obligations aren't particularly hard to meet as it's a private network (an Electronic Communications Network), however as soon as it becomes a Public Electronic Communications Network (PECN) then there are a lot more obligations. PECN's can also be subject to the E-Commerce Act and Regulation of Investigatory Act (RIPA).
In the UK ignorance is not an defence when it comes to the law, so running a PECN – knowingly, or otherwise – means the operator has to know what their legal obligations are. It's up to them to dig out the rules, understand them and meet them.
If they don't, and there's an issue in the future, they can be prosecuted for not abiding by them.
Some of the rules are quite simple, like maintaining accurate billing records, but there are quite a few to keep an eye on and companies wishing to go this route should possibly get legal advice. It's not for nothing that telecoms companies maintain regulatory departments – they're mainly there to ensure the telco complies with all the relative regulations, so the directors of the company don't go to jail.
In short, if you want to take your business down this route, be aware it's potentially not as simple as just getting one of these boxes and sticking it on your DSL. You should be aware of any potential consequences.
The SMCWHSG14-G costs 849.99 EUR (£535) and it is available immediately.