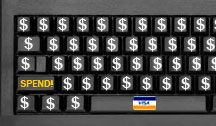 Online buying has become so commonplace in America that sales of everyday items like clothing and shoes have outstripped the more traditional 'techie' big sellers like computers and software.
A report by Shop.org (part of the National Retail Federation) estimated online clothing sales at around $18.3bn in 2006, ahead of the $17.2bn spent on computers in the same year.

Overall, US e-commerce, excluding travel, rose a hefty 29 per cent to $146.5bn over the year.
The report was led by Forrester Research, with their retail analyst Sucharita Mulparu commenting that clothing sales had been boosted by free delivery and returns incentives.
Buyers were also being tempted to whip out their wallets by funkier websites offering more information, interactive product views and user feedback, reviews and ratings.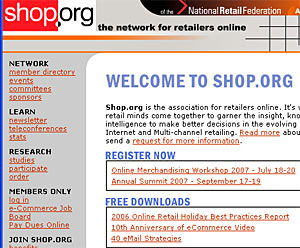 The websites may be improving, but the report shows that the proportion of people arriving at sites and actually going on to order something still remained pitifully low at just 3 per cent.
There's also a lot of dithering shoppers out there too, with many users bailing out of the transaction after products have been put into their virtual shopping basket (we've been guilty of this a few times ourselves!).
With surveys showing that around a third of online shoppers experienced problems with transactions, Ms Mulparu suggested that e-commerce was succeeding, "in spite of itself".
Blue Nile Expands Into Europe
Elsewhere, Blue Nile – the bigshot American online retailer of diamond engagement rings and not the fabulous band of the same name – has announced its first distribution centre outside the US to be opened in Ireland, with a full UK website launched last weekend.
These guys shift so much bling that they outsold Tiffany's on wedding and engagement rings last year, and their move reflects the growing interest of big online companies to expand internationally.
Scott Silverman, executive director of Shop.org, commented, "Companies such as Blue Nile that have been around for six or seven years are pretty big. They are seeing some signs that 50 per cent per year growth cannot continue, so international expansions seem to be an increasingly attractive option for them."