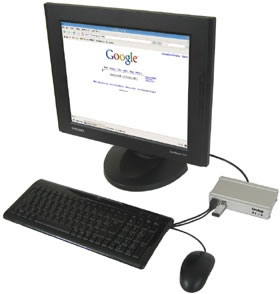 Get ready for a bonkers-ly small Linux machine, called Linutop, as it comes on sale.
For us the cool features of the Linutop are its silent operation, small size (9.3 x 2.7 x 15 cm) and low energy consumption – less than 6 watts.
Linutop comes with xubuntu, a shrunk-down version of the hugely popular Ubuntu Linux, including Firefox providing Web access and Gaim for instant messaging in its build.

It's claimed that many other Linux applications can be loaded via USB-connected storage but they'll all have to operate within 256 MB of RAM, as this is integrated into the motherboard and cannot be expanded.
On their Wiki, Linutop say that it works with Skype, YouTube and other Flash-based video sites, and the streaming audio works well, in fact with 'great sound quality.' They haven't tested MPEG, AVI, or WMA videos – shame because this kind of solution really could be a workable alternative to a lunking PC in your lounge – avoiding the need for playing music to drown out the PC's fan noise.
There's also mention of it running Totem, of the vast majority of your media playing needs.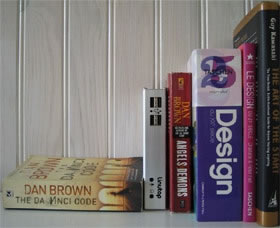 Additional ports on board, beyond the four USB 2.0 ports, are audio out and in, 100baseT Ethernet, VGA (up to 1600, 1200), power (natch).
The price should appeal with single units (including a 1Gb USB key) selling for £280, or a block of 8 selling for £2,100. Both prices are + VAT + Shipping.
Linutop say that they're taking orders now for Europe and the US should follow shortly.
(via)