In part one we covered the basics and followed up in part two with how to use this piece of kit.
In the third and final part we take a gander at flash, picture quality, movie mode.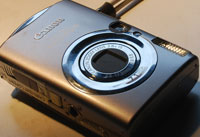 Flash
Although none too powerful, the flash (situated to the top right of the camera) managed a working range of 0.5 – 4.0m at wide-angle and 0.5 – 2.0m at telephoto. Red eye was a bit of a problem, so users might want to consider investing in an external slave flash like the Metz Mecablitz 28 CS-2.

Movie Mode
The Canon excels when it comes to video, with the DIGIC III processor supporting AVI format files up to 4GB – that works out at over 30 minutes of 640 x 480 resolution, 30fps video with sound.
If you want to keep file sizes down, movies can also be recorded at 320 x 240 and 160 x 120 resolution, at 30 or 15 frames/second.
As with most digital compacts, optical zooming during filming is a no-no, although you can use the digital zoom (but this is, frankly, rubbish).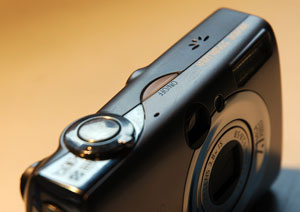 An interesting "Fast Frame Rate" mode lets users grab up to one minute of 320 x 240 footage at a super fast 60 frames/second, which should prove handy for recording sports and fast moving subjects.
In-camera video editing is also supported, so budding Spielbergs on a budget can trim down their creations without consulting a PC.
Picture quality
We were pretty impressed with the image quality at lower ISOs, although the overall performance was nothing spectacular. Image noise was controlled around the 100-200ISO mark and just about acceptable for smallish prints at 400ISO.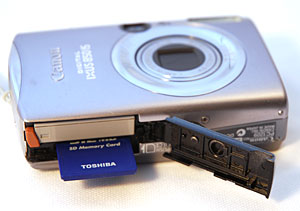 Exposure was spot on for most shots, although images suffered from some softness in the corners and a little purple fringing. It was nothing too severe though, so it shouldn't be a problem unless you intend to blow pictures up into large prints.
Conclusion
There's no denying that the Ixus 850 manages to pack an awful lot into its stylish, ultra-compact case, and the combination of optical image stabilisation, a 7.1 megapixel sensor and a wide 28-105 mm lens makes for a very attractive take-anywhere package.
The image quality may fall slightly behind the class leaders and the lack of manual controls will frustrate advanced users, but for point'n'shooters looking for an everyday camera, the Ixus 850 could be a camera to consider.
It's a bit of a pricey number though at around £250, and the lack of durability might be of concern to those who don't like to mollycoddle their cameras in cases all the time, but the spec sheet does make a compelling read.
Our verdict
Ease of use: 78%
Build: 75%
Features: 65%
Image quality: 70%
Value for money: 77%
Overall: 73%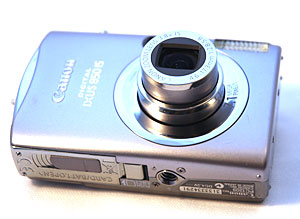 Specs:
Resolution: 7.1 Megapixels (3072 x 2304)
Viewfinder: 2.5″ LCD screen and Real Image coupled (zooming) optical viewfinder
Zoom: f2.8-f5.8/4.6mm-17.3mm (28mm to105mm – 35mm equivalent)
Auto Focus: Contrast Detection 9 AF point AiAF
Manual Focus: no
Flash: Built-in Multi-mode
Exposure: Auto and Program AE
Metering: Evaluative, Center-weighted, & Spot
Exposure compensation: Yes +/- 2 EV in 1/3 EV increments
White balance: TTL Auto, and 6 user selected pre-sets
Sensitivity: Auto, High ISO Auto, 80, 100, 200, 400, 800, and 1600 ISO
Image Storage Media: SD, SDHC, & MMC cards
Connectivity: USB 2.0HS, AV/out, & DC in
Power: NB-5L 3.7V 1120mAh Li-ion rechargeable battery pack