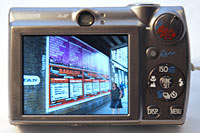 Yesterday we covered the basics of the Canon Ixus 850IS.
Today we look at how to use it.

Using the camera
Firing up the camera in automatic, the Ixus proved to be a nippy performer, starting up promptly and taking no time at all to lock onto focus. Low light focussing was slower but still impressive.

The screen was clear and bright with usefully wide viewing angles, although we found the zoom a little unpredictable in operation, often racing past the desired position. We didn't like the fact that there was no onscreen indicator of the zoom's setting either.
Shot-to-shot time was pretty good, with continuous mode managing around 10 shots in 6 sec.
We weren't too impressed with the facial recognition software on the Ricoh R5, but Canon seemed to have made a better job of it, with the Ixus quickly locating phizogs in the frame and identifying them with an overlaid green square.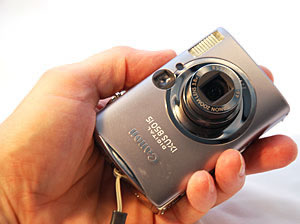 The Ixus offers a wide range of ISO ratings, from Auto, Hi Auto, 80, 100, 200, 400, 800 up to 1600. As might be expected, anything over 400 ISO puts you deep into a digital noise storm.
Although we found the battery life to be pretty good, the lack of an onscreen indicator of remaining battery life was an unforgivable omission. What were they thinking?
Also worth noting was how easily the camera scratched – despite its tough-looking exterior, the Ixus soon suffered marks on during normal usage.
Scene modes
The Ixus offers a host of 'scene' mode presets for portrait, night snapshot, kids & pets, indoor, foliage, snow, beach, fireworks, aquarium, and underwater, with the choices accessed through an onscreen menu.
We would have preferred to have been able to select at least a few of these scenes directly from the dial rather than having to rummage around in onscreen menus.
A macro option lets you zoom in as close as 3cm from your subject, or you can use the digital zoom to zoom in further while sacrificing image quality.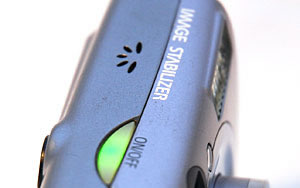 We couldn't see much point in the 'Colour Accent' and 'Colour Swap' options (these let you select a single colour to highlight over a black & white image or swap one colour for another.)
More useful is the 'stitch assist' function for creating a single panoramic image.
Viewfinder
Although we're always moaning about the lack of optical viewfinders on digital compacts, the one on the Ixus is almost too small to be usable.
Like most digital compacts, there's no shooting information provided in the optical viewer (we wish!), but we guess it could come in handy in really bright conditions, although people wearing glasses may just give up trying to squint through the little porthole-like finder.
Manual
In line with its point'n'shoot aspirations, there's precious little in the way of manual controls available on the camera.
In fact, the 'manual' mode only only offers tweaks for white balance, exposure compensation, image size and quality, metering mode and some colour options, so enthusiasts are likely to get frustrated by its limitations very quickly.
In our final part we take a gander at picture quality, movie mode and flash.