There have been mutterings for a while about the classic, long-running gore/terror-fest, Resident Evil, coming to the Nintendo Wii in Europe.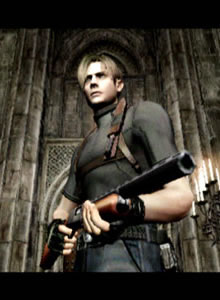 Official confirmation of the European release has this morning been announced – and it's to arrive in two flavours.
The first, on 29 June, will be Resident Evil 4 Wii Edition, which is a "re-mastered version" of the game, utilising the all-new motion sensitive controls that make the Wii what it is.
Resident Evil 4 has already been on the GameCube, PlayStation2 and PC is confusingly the sixth instalment of the Resident Evil series.
Coming "later in the year" will be Resident Evil: The Umbrella Chronicles, which looks to us like it's been designed to appeal to those who are long-in-the-tooth Resident Evil players.
It's a brand new title for Wii that allows players to gain a greater insight than ever before into the back story behind the outbreak. Capcom, the developers of both titles, describe it as an "action/shooter hybrid," which has locations from Resident Evil 0, 1, 2 and 3 as well as new never-before-seen locations, such as Umbrella's stronghold. Woooo!
One enterprising site has even mocked up a version of how they think the Wii-mote might be used to play Resident Evil.
The Umbrella Chronicles has been designed to use gun controllers – shooting is a large part of Resident Evil after all. Those in the frame are the yet-to-be-released Wii Blaster gun and possibly the now-selling JoyTech Sharp Shooter.