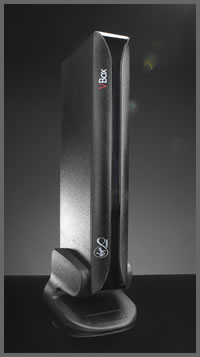 Virgin Media has ramped up the availability of its quadplay (broadband, phone, mobile and TV) services beyond its cable franchise network with today's announcement of a new digital TV service.
Using the digital terrestrial television platform (DTT), Virgin will be offering a new set-top box to lure customers with the promise of over 40 free-to-air TV channels and over 25 digital radio stations, an eight-day, Virgin branded, on-screen TV guide, interactive content (via the trusty red button) and plug 'n' play installation.
Perhaps cocking a snoot to Sky's energy-scoffing box, Virgin say that their set top box will offer low power consumption and use just 1/15th of the energy of a standard 60W light bulb (we could work that out as a percentage for you, but it's still Monday morning).
The box is a wee little puppy too, measuring up around the same size as Ye Olde VHS tape (19cms by 9cms) and comes with a remote control and a nifty remote control extender so you can still use the remote if the box is hidden away somewhere.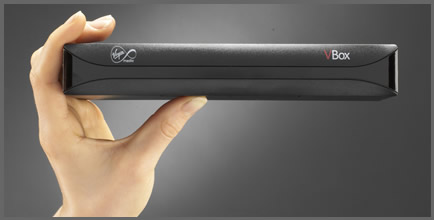 Virgin will be dishing the boxes out for free to any non-cable customers subscribed to their twenty quid 8 Meg broadband and Talk Anytime phone bundle, or there'll be a £40 charge to non-cable customers taking a broadband service on it's own.
Philip Snalune, managing director of non-cable (bit a duff job title that, no?) at Virgin Media, said:
"Launching a basic TV service into non-cable areas enables us to expand availability of our quadplay of broadband, phone, mobile and TV. This is just the first step and our aim is to offer more advanced TV services in all areas throughout 2008."