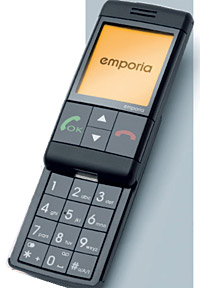 On display at the CeBit hi-tech fair last week was a new mobile phone offering a built-in emergency button.
Designed for older folks, the Life mobile phone gets rid of all the usual multimedia razzmatazz and bells'n'whistles in preference for a no-nonsense, back-to-basics handset that should prove simpler to use for the technologically challenged.
The stripped down dual band phone comes with a big 2.7in (6.8cm) monochrome screen matched by over-sized buttons designed to be read by people with failing sight.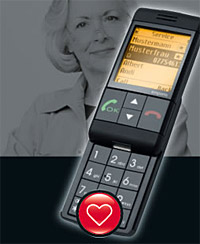 The phone comes with extra loud volume options for speaker and ring tones and has a powerful vibration alert to ensure the owner knows that someone's calling.
For added security, there's a big emergency red button on the back which can be programmed to call a designated number for help and send off a pre-written text message.
The Life phone has been created by the Austrian firm Emporia, who have started developing simpler phones aimed at the older generation.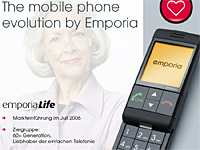 There seems to be some debate about just how old the target market actually is: the MatureMarket.com website (for "seniors & Baby boomers worldwide") had it pegged as a phone targeted at the over 40s. The BBC reckoned it was for over the over 50s, while the manufacturers own site had it pegged for even older people, "the 60+ generation."