We rather liked the nifty WordWeb 4 Pro dictionary and thesaurus when we looked at it in September last year and it's remained a firm favourite in the office ever since.
A fast and smart English-language thesaurus and dictionary for Windows, WordWeb can be used to look up words from almost any program, dishing up definitions, synonyms and related words like a resident egghead lurking in your system tray.
With an upgrade to version 5 announced last week, we thought we'd take a shufti to see how it shaped up.
What's new?
After downloading the free 7.5meg version of WordWeb 5, the first thing we noticed was that the Ye Olde Windows 95-style system tray icon had been replaced by a natty new icon which looks a lot smarter.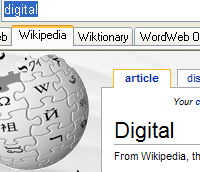 Full Windows Vista support has been bolted on, with the authors claiming that the program now comes with "many thousands of new senses, synonyms and clarifications."
What we immediately noticed – and liked – was the improvement in usability; now you just have to hold down your keyboard's control key and right-click over a word to bring up a definition in WordWeb. There's no need to even select the word first, making it very fast and very neat.
A large choice of synonyms and antonyms are offered for selected words, and you can easily replace a selected word with a synonym by hitting the 'replace' button.
Note that this features works in most word processing applications, web browsers and email clients, otherwise you'll have to hit 'copy' and paste the word in yourself.
Online definitions
The main WordWeb database sits on your hard drive (so you don't have to go online to look up words) but a new feature lets you speedily check web references on the Wikipedia, Wiktionary and WordWeb Online websites in the same program window.
There's also a new Bookmark menu for bookmarking words (if that's your thing), and a 'Basic English' option simplifies the results screen by presenting the most common definitions in bold.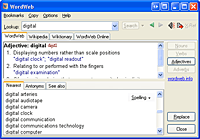 Hyper-bowls are us
If you're unsure how to pronounce a displayed word, clicking on the loudspeaker icon will play back an audio pronunciation guide.
Although it can sound a bit 'Sparky the Magic Piano' (it uses Windows' less than stellar Speech Engine) it should be enough to avoid committing a crushing social faux like pronouncing 'hyperbole' as 'hyper-bowl' at a posh dinner party.
Like we did once. And it still smarts.
Conclusion
If you're looking for a free, fully featured thesaurus and dictionary, you'll be unlikely to find anything better than WordWeb 5 – it certainly knocks spots off what's built into Word, for example.
The ability to instantly call up a definition by right clicking on any word onscreen considerably improves usability, and the new web tools are a nice touch.
We should point out that there is also an enhanced commercial version available, offering custom web references, 6,000 more definitions, custom glossaries, wildcard word search and other features, but can't say much about it because the author steadfastly refused to send us a copy, despite several requests.
We can, however, tell you that it costs £14 and is quite probably excellent value.
WordWeb 5 Free
Score on the doors
Features: 85%
Interface: 80%
Ease of use: 86%
Overall: 91%