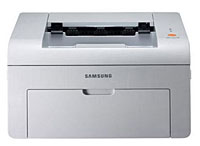 After one battle too many with our ever-flaky Epson printer (see: My Printer Hell), we elected to get ourselves a cheap laser printer for knocking out black and white documents (and those annoying PDF manuals that now keep coming with new products).
The printer was a cinch to set up, and for a laser it's a compact jobbie too, measuring a reasonably modest 14″ x12″ x10″ (378 x 299 x 227 ) – perfect as a desktop printer for the home/small office.
The Samsung ML 2510 hooks up to the PC via USB, although Samsung have also included a parallel port for users still trundling on with steam-powered desktops (but there's no Ethernet port for networking, unfortunately.)
We were certainly impressed with both the Samsung's print quality and speed. Text came out every bit as crisp as you'd expect from a laser and our test prints managed to just surpass Samsung's claimed 24 pages per minute, peaking at an impressive 26ppm.
Capable of 1200 x 600 dpi output, the ML-2510 handled text cleanly and crisply, although – as with most lasers – photos weren't too hot.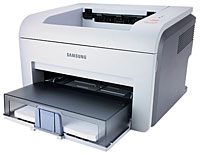 The printer tray at the bottom stores a useful 250 sheets, so you can let it get on with big jobs unattended, with the printer fairly quiet in operation.
With just a combined toner and drum to replace, maintenance is something of a no-brainer task, taking less than a minute.
Replacement toner cartridges can be picked up for fifty quid or so and should be good for around 3,000 pages; working out at around 1.6p per page (not including the paper).
It's worth noting that although the ML-2510 comes with a free cartridge, it's a bit of a cut-down number and can only handle 1,000 pages.
Still, that's really nitpicking when you consider that you can pick up this fast, cheap-to-run and excellent printer for around £70. As cheap as cut-price chips!
Our verdict
Features: 82%
Ease of Use: 87%
Build Quality: 88%
Overall: 87%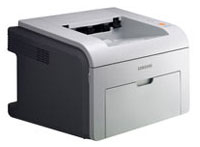 SPECIFICATIONS:
Monochrome laser printer
Format A4, 76 x 127 mm, Legal (216 x 356 mm)
Paper Classic paper, Transparencies, Labels, Cards, Envelopes
Resolution 1200 x 600 dpi
Speed Up to 24 pages per minute
Computer Interface Compatible USB 2.0
Optional Exthernal Ethernet box
Compatible Platforms Windows 95/98/Me/NT4.0/2000/XP/2003 Server,
Divers Linux including Red Hat 8~9, Fedora Core 1~3, Mandrake 9.2~10.1 et SuSE 8.2~9.2,
Mac OS 10.3
Cartridges Monobloc toner catridge
Dimensions (mm) 378 x 299 x 227
Weight (Kg) 5
Other 1st page printing time: 8.5 s
Sound level: printing 50 dB /35 dB on standby
Max monthly prints: up to 10 000 pages/month
Integrated memory: 8 Mb