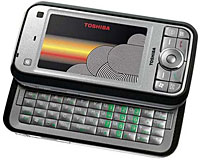 A cavalcade of new phones are continuing to spew forth from the 3GSM World Congress bash in Barcelona, and one that has especially warmed our toilet seats of desire is the 'G900' smartphone from Toshiba.
When it comes to the world of mobiles, Toshiba traditionally makes less noise than a mute mouse in a cotton wool box wearing marshmallow shoes, but their new G900 certainly looks like it might make a bit of a splash.
Sporting a horizontally sliding out QWERTY keyboard, the silver handset comes with a thumping great 3-inch WVGA screen serving up a huge 800 x 480 (WVGA) resolution – big enough to make web surfing a really practical proposition.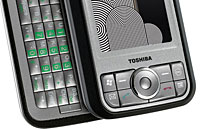 To ensure that the vast display is topped up with fast and fresh web pages there's ultra-nippy HSDPA connectivity onboard (take that, iPhone!), with 64MB of internal memory and a miniSD card taking care of storage duties.
The main camera isn't going to get mobile Muybridges salivating into their viewfinders at just 2 megapixels, but it should be good enough for general snapping duties, while the G900 also comes with a bog standard front mounted camera for video calls.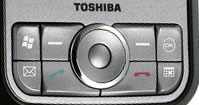 Extra security comes in the form of a rear biometric scanner, and there's also Bluetooth with A2DP support, Wi-Fi, USB On-The-Go and Microsoft's new Windows Mobile 6 OS.
We're liking the cut of Toshiba's jig here and reckon that the G900 may even be tough enough to take the iPhone around the back of the bike sheds for a bit of a duffing up, but we'll be holding back the love until we know how big it is and how much it's going to cost.